It's the last day of OpenText Enterprise World for this year. I started the day attending one of the developer labs, where I created a JavaScript app using OT2 services, then attended a couple of AppsWorks-related sessions: Duke Energy's transition from MetaStorm to AppWorks, and using AppWorks for process/case and content integration in the public sector. I also got to meet the adorable Great Dane that was here as part of the Paws for a Break program: she's a cross between a Harlequin and Merle in color, so they call her a Merlequin.
Mark Barrenechea was back to close the conference with a quick recap: 3,500 attendees, OpenText Cloud Edition, Google partnership, ethical supply chains, and the talk by Sir Tim Berners-Lee. Plus Berner-Lee's quote of the real reason that the web was created: cat videos!
In addition to the announcements that we heard during the week, Barrenechea also told us about their new partnership with MasterCard to provide integrated payment services in B2B supply chains, and had two MasterCard Enterprise Partnership executives on stage to talk more about it.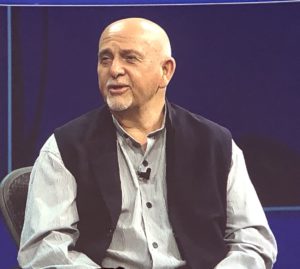 The closing ceremonies finished off with another very special guest: singer, songwriter and activist Peter Gabriel. I was familiar with his music career — having had the pleasure to see him live in concert in the past — but didn't realize the extent of his human rights activism. He talked about his start and career in music, and some of the ways that he's woven human rights into his career, from writing the timeless anti-apartheid hit about Stephen Biko to starting the WOMAD festival. He's been involved in the creation of an inter-species internet, and showed a video of a bonobo composing music with him.
Then his band joined him and he played a set! Amazing finish to the week.