I had a demo from Simon English at the OpenText Enterprise World expo earlier this week, and now he and Kelli Smith are giving a session on their dynamic case management offering. English started by defining case management:
Management of dynamic, unstructured processes
Processes are driven by events or human interactions to support faster, more accurate decisions
Decisions are tied to content and the case directs that content to the right conclusion
In their terms, a case is a transaction that is "opened" and "closed" over a period of time: resolve a problem, settle a claim, or fulfill a request. There may be many different types of participants required to complete the case, and a variety of content and data involved.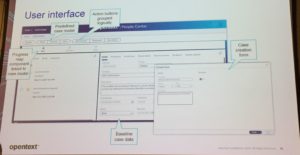 Similar to the approach of other vendors, OpenText equates "case management" with "vertical application development" to a certain extent, and getting to case handling quickly needs a blueprint to quick-start solution development. To that end, they provide an accelerator as part of Process Suite that includes a pre-defined case model and entities to provide a starting point for developing a case management application, particularly incident management or service requests. Essentially, it's a sample app/template, albeit a well-structured one that can easily be modified for actual solutions; they have no illusions that this is going to be an out-of-the-box solution for anyone, but rather a guide for people creating new case management applications so that they don't need to start from scratch.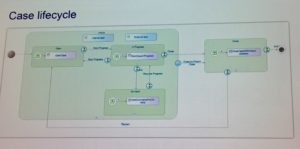 If you refer back to the more complete description of AppWorks Low Code that I gave in the previous post, they have defined entities, forms, layouts and a case lifecycle that fit a wide variety of request-style case management applications.
Smith then gave us a demonstration of People Center — similar to what we saw her do on the main stage on Tuesday — and discussed how they used the case management accelerator as a starting point for developing the People Center application. They used some parts of the template pretty much as is — such as the request creation form — but made it specific to HR management and extended the capabilities to suit, including a dashboard specific to each role. Checklists and options are specific to the HR application, but as discussed in previous posts, those will persist through an upgrade of the underlying People Center application.
She also walked us through the case management accelerator in the development environment, showing the fairly complete set of entities, forms, layouts, action bars, lists, relationships, rules, email templates, BPM processes, roles and other objects, as well as how easy it is to modify them for your own use. For any partners in the audience, or even customer developers, this will resonate as a method of quickly creating a fully-customized application based on the template that addresses a specific vertical functionality.