I realize that I'm completely remiss for not posting about last week's DecisionCAMP, but in my defense, I was co-hosting it and acting as "master of ceremonies", so was a bit busy. This was the third year for a virtual DecisionCAMP, with a plan to be back in person next year, in Oslo. And speaking of in-person conferences, I'm in Berlin! Yay! I dipped my toe back into travel three weeks ago by speaking at Hyland's CommunityLive conference in Nashville, and this week I'm on a panel at Camunda's annual conference. I've been in Berlin for this conference several times in the past, from the days when they held the Community Day event in their office by just pushing back all the desks. Great to be back and hear about some of their successes since that time.
Day 1 started with an opening keynote by Jakob Freund, Camunda's CEO. This is a live/online hybrid conference, and considering that Camunda did one of the first successful online conferences back in 2020 by keeping it live and real, this is shaping up to be a forerunner in the hybrid format, too. A lot of companies need to learn to do this, since many people aren't getting back on a plane any time soon to go to a conference when it can be done online just as well.
Anyway, back to the keynote. Camunda just published the Process Orchestration Handbook, which is a marketing piece that distills some of the current messaging around process automation, and highlights some of the themes from Jakob's keynote. He points out the problems with a lot of current process automation: there's no end-to-end automation, no visibility into the overall process, and little flexibility to rework those processes as business conditions change. As a result, a lot of process automation breaks since it falls over whenever there's a problem outside the scope of the automation of a specific set of tasks.
Jakob focused on a couple of things that make process orchestration powerful as a part of business automation: endpoint diversity (being able to connect a lot of different types of tasks into an integrated process) and process complexity (being able to include dynamic parallel execution, event-driven message correlation, and time-based escalation). These sound pretty straightforward, and for those of us who have been in process automation for a long time these are accepted characteristics of BPMN-based processes, but these are not the norm in a lot of process orchestration.
He also walked through the complexities that arise due to long-running processes, that is, anything that involves manual steps with knowledge workers: not the same as straight-through API-only process orchestration that doesn't have to worry about state persistence. There are a few good customer stories here this week that bring all of these things together, and I plan to be attending some of those sessions.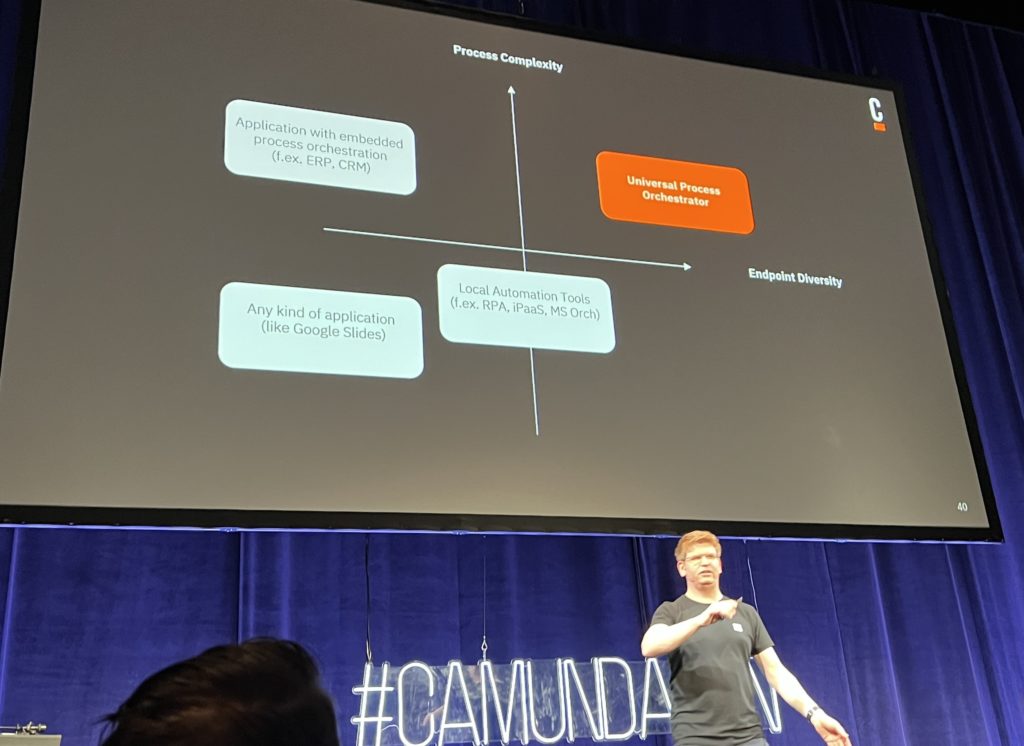 He presented a view of the process automation market: BPMS, low-code platforms, process mining, iPaaS/integration, RPA, microservices orchestration, and process orchestration. Camunda doesn't position itself in BPMS any more – mostly since the big analysts have abandoned this term – but in the process orchestration space. Looking at the intersection between the themes of endpoint diversity and process complexity that he talked about earlier, you can see where different tools end up. He even gives a nod to Gartner's hyperautomation term and how process orchestration fits into the tech stack.
He finished up with a bit of Camunda's product vision. They released V8 this year with the Zeebe engine, but much more than that is under development. More low-code especially around modeling and front-end human task technology, to enable less technical developers. Decision automation tied into process orchestration. And stronger coverage of AI, process mining and other parts of the hyperautomation tech stack through partnerships as well as their own product development.
Definitely some shift in the messaging going on here, and in some of Camunda's direction. A big chunk of their development is going into supporting low-code and other "non-developer" personas, which they resisted for many years. They have a crossover point for pro-code developers to create connectors that are then used by low-code developers to assemble into process orchestrations – a collaboration that has been recognized by larger vendors for some time. Sensible plans and lots of cool new technology.
The rest of the day is pretty packed, and I'm having trouble deciding which sessions to attend since there are several concurrent that all sound interesting. Since most of them are also virtual for remote attendees, I assume the recordings will be available later and I can catch up on what I missed. It's not too late to sign up to attend the rest of today and tomorrow virtually, or to see the recorded sessions after the fact.