I had a quick briefing with Daniel Meyer, CTO of Camunda, about today's release. With this new version 7.15, they are rebranding from Camunda BPM to Camunda Platform (although most customers just refer to the product as "Camunda" since they really bundle everything in one package). This follows the lead of other vendors who have distanced themselves from the BPM (business process management) moniker, in part because what the platforms do is more than just process management, and in part because BPM is starting to be considered an outdated term. We've seen the analysts struggle with naming the space, or even defining it in the same way, with terms like "digital process automation", "hyperautomation" and "digitalization" being bandied about.
An interesting pivot for Camunda in this release is their new support for low-code developers — which they distinguish as having a more technical background than citizen developers — after years of primarily serving the needs of professional technical ("pro-code") developers. The environment for pro-code developers won't change, but now it will be possible for more collaboration between low-code and pro-code developers within the platform with a number of new features: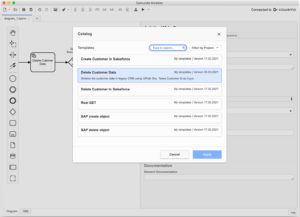 Create a catalog of reusable workers (integrations) and RPA bots that can be integrated into process models using templates. This allows pro-code developers to create the reusable components, while low-code developers consume those components by adding them to process models for execution. RPA integration is driving some amount of this need for collaboration, since low-code developers are usually the ones on the front-end of RPA initiatives in terms of determining and training bot functionality, but previously may have had more difficult integrating those into process orchestrations. Camunda is extending their RPA Bridge to add Automation Anywhere integration to their existing UIPath integration, which gives them coverage of a significant portion of the RPA market. I covered a bit of their RPA Bridge architecture and their overall view on RPA in one of my posts from their October 2020 CamundaCon. I expect that we will soon see Blue Prism integration to round out the main commercial RPA products, and possibly an open source alternative to appeal to their community customers.
DMN support, including DRD and decision tables, in their Cawemo collaborative modeler. This is a good way to get the citizen developers and business analysts involved in modeling decisions as well as processes.
A form builder. Now, I'm pretty sure I've heard Jakob Freund claim that they would never do this, but there it is: a graphical form designer for creating a rudimentary UI without writing code. This is just a preliminary release, only supporting text input fields, so isn't going to win any UI design awards. However, it's available in the open source and commercial versions as well as accessible as a library in bpmn.io, and will allow a low-code developer to do end-to-end development: create process and decision models, and create reusable "starter" UIs for attaching to start events and user activities. When this form builder gets a bit more robust in the next version, it may be a decent operational prototyping tool, and possibly even make it into production for some simple situations.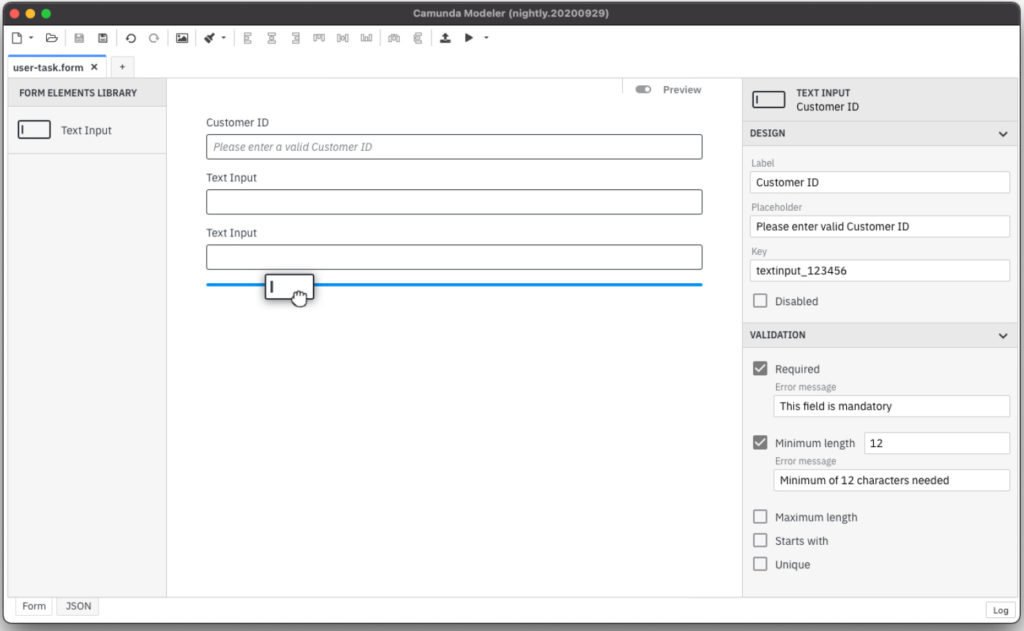 They've also added some nice enhancements to Optimize, their monitoring and analytics tool, and have bundled it into the core commercial product. Optimize was first released mid-2017 and is now used by about half of their customers. Basically, it pumps the operational data exhaust out of the BPM engine database and into an elastic search environment; with the advent of Optimize 3.0 last year, they could also collect tracking events from other (non-Camunda) systems into the same environment, allowing end-to-end processes to be tracked across multiple systems. The new version of Optimize, now part of Camunda Platform 7.15, adds some new visualizations and filtering for problem identification and tracking.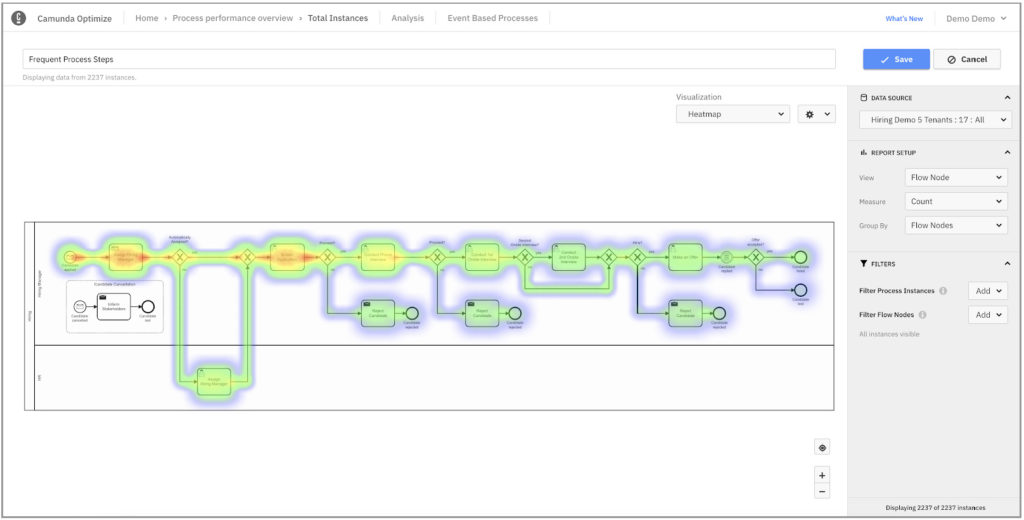 Overall, there's some important things in this release, although it might appear to be just a collection of capabilities that many of the all-in-one low-code platforms have had all along. It's not really in Camunda's DNA to become a proprietary all-in-one application development platform like Appian or IBM BPM, or even make low-code a primary target, since they have a robust customer base of technical developers. However, these new capabilities create an important bridge between low-code developers who have a better understanding of the business needs, and pro-code developers with the technical chops to create robust systems. It also provides a base for Camunda customers who want to build their own low-code environment for internal application development: a reasonably common scenario in large companies that just can't fit their development needs into a proprietary application development platform.