I gave the Monday afternoon keynote at Appian World 2012 last week on the topic of the impact of social technologies on the enterprise, with a particular focus on how social features and exposure are changing our business processes. I'll post the entire presentation online – I'm thinking of recording a re-creation of my presentation and syncing it with the slides – but I wanted to focus on one slide that I feel is at the heart of what we should be doing with social enterprise.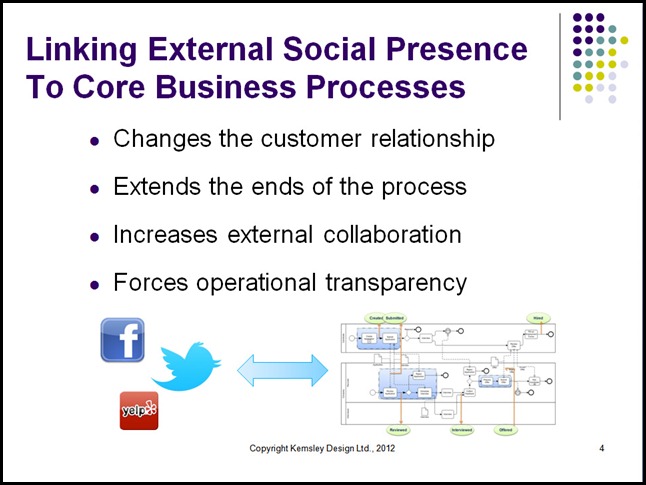 I was discussing how important it is to link an organization's external social presence with their business processes, and gave two examples from my own experience as a consumer: one good, one not so good.
The first case – the good one – was about Zipcar. Since I live in downtown Toronto, where the transit is good and the Zipcars are plentiful, I don't own a car, but rely on rentals. Zipcar is perfect for me: book online, show up and have immediate access to the car via an RFID card, and rent only for an hour or two if that's what I need. One of the rules of being a Zipster is that if the car has 1/4 tank of fuel or less, you fill it up before you return it; there's a credit card included, so it costs nothing but a few minutes of your time and a bit of inconvenience. Some people, however, treat their Zipcar like their mom's car, and bring it back with an empty tank and potato chip crumbs all over the seat. Heading out to the CASCON conference early one morning last November, I hopped in my Zipcar for an 80km round-trip drive only to find the tank uncomfortably low on fuel. At my lunch break, I started searching for a gas station close to my destination, and tweeted my exasperation:

In spite of my mistyping of "talk" for "tank", the next day, I received an email from a Zipcar representative:
I received word that you experienced a low gas situation with yesterday's reservation with Civic Champion. Please accept a 2hr driving credit along with my apologies for the inconvenience this caused.
That means that a number of things had to have happened:
Someone at Zipcar was monitoring Twitter for mention of their @Zipcar handle. (pretty standard)
Someone read my tweet and decided that it needed action. (good, but also fairly standard)
Someone figured out who I am based on my Twitter account, then linked that to my Zipcar account. (OMG amazing, and only possible because I tweet using my real name)
Someone decided that my complaint had merit, and gave me two hours of driving credit (total awesomesauce, not just for the two free hours, but for what it implied about their business processes)
All of this happened within 24 hours of the rental, which means that there is some sort of link baked in between their social presence (Zipcar Twitter account) and their internal business processes (complaint handling and customer refund).
When I told this story during my keynote, there was an appreciable murmur in the audience: everyone there understood the magnitude of what Zipcar had done to link their external social presence to their internal business processes, and in what must be a fairly efficient manner.
The second case was a perfect example of how to screw up that link, and likely is closer to what most organizations are still doing. The night that I was in DC giving the keynote, I had tickets for a concert at Roy Thomson Hall, a large concert venue in Toronto. A few weeks before, when I realized that I was not going to get home in time, I tweeted to @RoyThomsonHall asking if a refund or exchange was possible; a day and a half later, they tweeted back "please call the box office and speak with one of our customer service representatives directly". Quite excited, I thanked them and told them that I would do that, then wasted several minutes on the phone only to find out that Roy Thomson Hall doesn't give refunds or exchanges. I responded back on Twitter with:
Twitter silence ensued.
Comparing them with Zipcar, this is how RTH links their external social presence to their internal business processes:
Someone at RTH was monitoring Twitter for mention of their @RoyThomsonHall handle. (pretty standard)
Someone read my tweet and decided that it needed action. (good, but also fairly standard)
Their social media team gave me misleading instructions that are completely disconnected from their actual business processes. (WTF?)
I wasted my time figuring out that either they employ a bunch of morons to handle their Twitter account, or someone had a massive misunderstanding about how to handle customer requests for refunds and exchanges. (#fail)
They ignore my final tweet wherein I inform them that they wasted my time. (also #fail, but at this point, expected)
With a monopoly on certain concerts in Toronto, I don't expect RTH to be as customer-focused as a more competitive industry such as rental cars, but I didn't expect their social media team to be so clueless about their actual revenue-generating business processes and the customer service that supports it.
The point of these two stories is not that I love Zipcar and am not quite so fond of Roy Thomson Hall's exchange policy, but that there is a right way and a wrong way to connect your social media presence to your core business processes. Complaints and requests arriving via social media need to be quickly passed along to customer support teams in the same manner as if they had arrived by email, phone, fax or letter, and handled with the same expediency and professionalism. Technology helps a lot with this – software is available to monitor social media channels for mentions of your company or products, and it's pretty easy to feed those events into a BPMS or CRM system – but you need to figure out how to triage and filter those events so that your core business processes aren't swamped by off-topic chatter by anonymous contributors.
Social media for business isn't a game, and it's not something just for PR or marketing to worry about: it's a channel of customer engagement. If you do it wrong, it's not only going to be noticed by your customers, but they're going to make sure that their followers notice it, too.