We started day 2 of OpenText Enterprise World with a technology keynote by Muhi Majzoub, EVP of Engineering. He opened with a list of their major releases over the last year. He highlighted the upcoming shift to cloud-first containerized deployments of the next generation of their Release 16 that we heard about in Mark Barrenechea's keynote yesterday, and described the new applications that they have created on the OT2 platform.
We heard about and saw a demo of their Core for Federated Compliance, which allows for federated records and retention management across CMS Core, Content Suite and Documentum repositories, with future potential to connect to other (including non-OpenText) repositories. I'm still pondering the question of when they might force customers to migrate off some of the older platforms, but in the meantime, the content compliance and disposition can be managed in a consolidated manner.
Next was a demo of Documentum D2 integrated with SAP — this already existed for their other content products but this was a direct request from customers — allowing content imported into D2 to support transactions such as purchase orders to be viewed from a Smart View by an SAP user as related documents. They have a strong partnership with SAP, providing enterprise-scale content management as a service on the SAP cloud, integrated with SAP S/4HANA and other applications. They are providing content management as OT2-based microservices, allowing content to be integrated anywhere in the SAP product stack.
AppWorks also made an appearance: this is OpenText's low-code application development platform that also includes their process management capabilities. They have new interfaces for developers and users, including better mobile applications. No demo, however; given that I missed my pre-conference briefing, I'll have to wait until later today for that.
Majzoub walked through the updates of many of the other products in their portfolio: EnCase, customer experience management, AI, analytics, eDocs, Business Network and more. They have such a vast portfolio that there are probably few analysts or customers here that are interested in all of them, but there are many customers that use multiple OpenText products in concert.
He finished up with more on OT2, positioning it as a platform and repository of services for building applications in any of their product areas. These services can be consumed by any application development environment, whether their AppWorks low-code platform or more technical development tools such as JAVA. An interesting point made in yesterday's keynote challenges the idea of non-technical users as "citizen developers": they see low-code as something that is used by [semi-]technical developers to build applications. The reality of low-code may finally be emerging.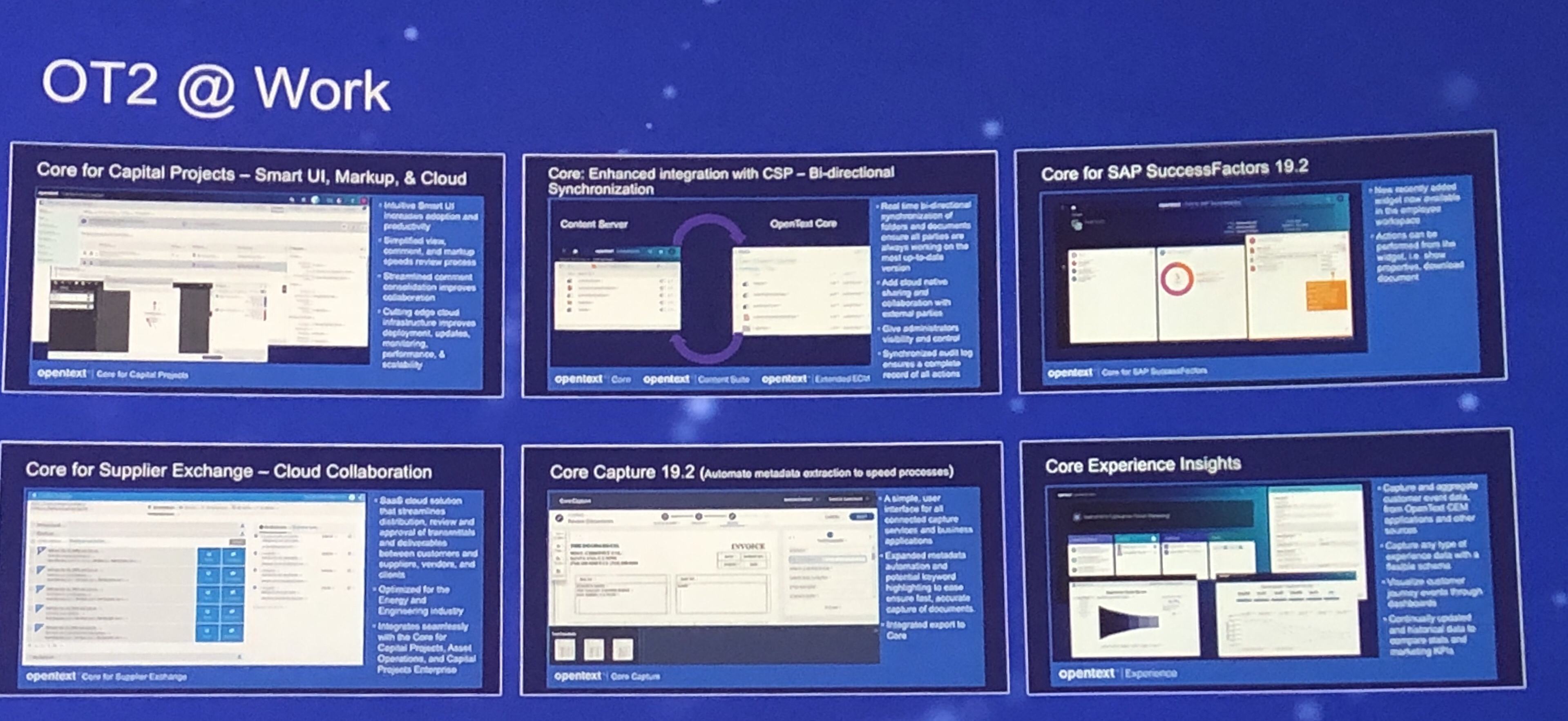 They are featuring six new cloud-based applications built on OT2 that are available to customers now: Core for Capital Projects, Core for Supplier Exchange, Core Enhances Integration with CSP, Core Capture, Core for SAP SuccessFactors, and Core Experience Insights. We saw a demo that included the Capital Projects and Supplier Exchange applications, where information was shared and integrated between a project manager on a project and a supplier providing documentation on proposed components. The Capital Projects application includes analytics dashboards to track progress on deliverables and issues.
Good start to the day, although I'm looking forward to more of a technical drill-down on AppWorks and OT2.