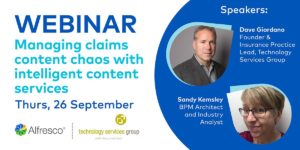 I'm back in my office after the European tour — three weeks, four countries and three conferences — and will be presenting on a webinar this Thursday hosted by Alfresco. I'll be having a conversation with Dave Giordano, founder and insurance practice lead at Technology Services Group, on how to make insurance claims work better for insurance companies and their customers.
Our expected topics of conversation include:
How claims have become a competitive differentiator in insurance
Challenges in claims processing
Streamlining the ingestion and recognition of digital media and other content
Customer use cases

for improving efficiency

and automation
You can sign up for the webinar here. As always, if you have any particular questions or comments that you want to send to me ahead of time, just comment on this post or send me a tweet.