Trends in Enterprise AI and Digital Decisions. Mike Gualtieri, Forrester
Day 2 of DecisionCAMP 2019 in beautiful Bolzano started out with Mike Gualtieri giving the Forrester view of trends in the market around AI and automated decisions. This was a typical analyst presentation — sorry, no notes — presented as part of the larger BRAIN 2019 (Bolzano Rules and Artificial INtelligence Summit) of which DecisionCAMP is a part.
Brainstorming Next-Generation Rule Platforms. Ron Ross, Business Rules Solutions
Ron Ross presented on the current state of business rules and opportunities moving forward. To start, we have made progress in this area — DMN for one thing is an amazing leap forward — but business rules are not yet universally accepted and adopted within organizations despite the provable benefits.
One opportunity for business rules tools is to reduce developer workload, and to reduce rule programming errors. In alignment with Semantics Of Business Vocabulary and Rules (SBVR) standard, there are two types of rules: definitional rules and behavioral rules. Definitional rules may be incorrect or misapplied, but they can't be directly violated since they are evaluated in the course of a process; declarative behavioral rules, on the other hand, require a "watcher" to track other events that may cause the state of another process or transaction to change. If implemented properly, behavioral rules can reduce developer workload since the event-driven watcher updates state constantly based on these rules firing. DMN does not allow modeling of these types of decisions, since there needs to be more awareness of state as well as the events that may cause it to change; there is no concept of a watcher daemon that can constantly evaluate rules and update state.
There is also a need to better address sentiment and human discretion in rules. With behavioral rules that are enforced by humans, there are levels of enforcement; these nuances are not captured in most rules/decision systems.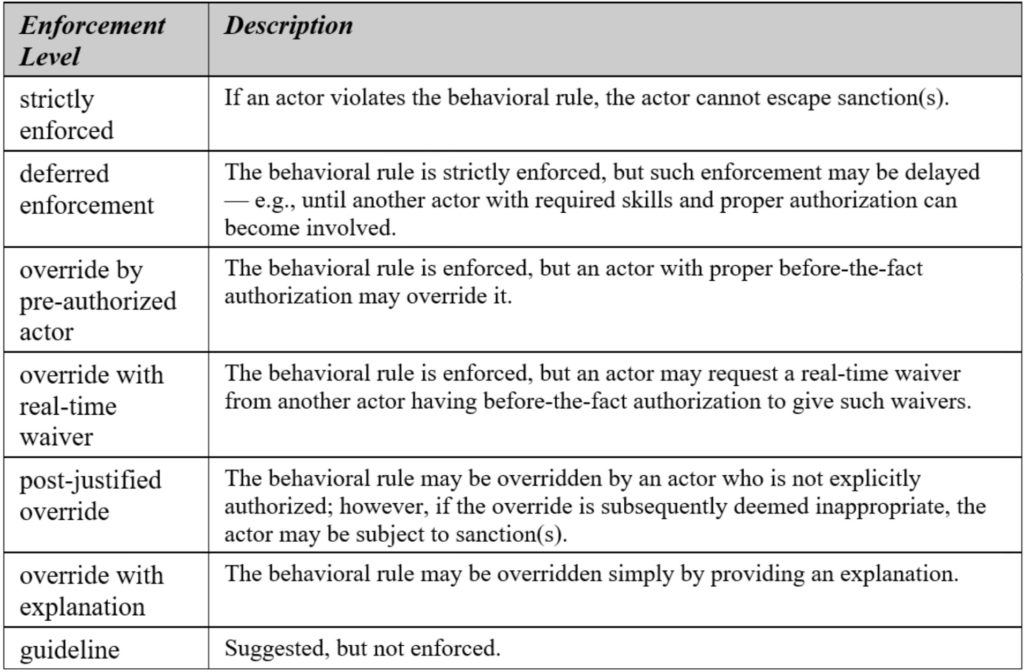 Rules tools also need to tie in more directly with business governance in order to enforce regulatory and other rules under which an organization needs to operate. Many of these are behavioral rules, which are not handled adequately by DMN and most decision management systems due to the lack of an event-driven watcher; there is also a gap caused by the lack of natural language support in defining executable rules.