I'm back for the Celonis online conference, CelosphereLive, for a second day. They started much earlier since they using a European time zone, but I started in time to catch the Q&A portion of Ritu Nibber's presentation (VP of Global Process and Controls at Reckitt Benckiser) and may go back to watch the rest of it since there were a lot of interesting questions that came up.
There was a 15-minute session back in their studio with Celonis co-CEO Bastian Nominacher and VP of Professional Services Sebastian Walter, then on to a presentation by Peter Tasev, SVP of Procure to Pay at Deutsche Telekom Services Europe. DTSE is a shared services organization providing process and service automation across many of their regional organizations, and they are now using Celonis to provide three key capabilities to their "process bionics":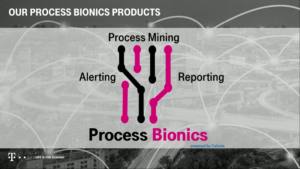 Monitor the end-to-end operation and efficiency of their large, heterogeneous processes such as procure-to-pay. They went through the process of identifying the end-to-end KPIs to include into an operational monitoring view, then use the dashboard and reports to support data-driven decisions.
Use of process mining to "x-ray" their actual processes, allowing for process discovery, conformance checking and process enhancement.
Track real-time breaches of rules in the process, and alert the appropriate people or trigger automated activities.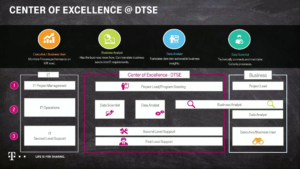 Interesting to see their architecture and roadmap, but also how they have structured their center of excellence with business analysts being the key "translator" between business needs and the data analysts/scientists, crossing the boundary between the business areas and the CoE.
He went through their financial savings, which were significant, and also mentioned the ability of process mining to identify activities that were not necessary or could be automated, thereby freeing up the workforce to do more value-added activities such as negotiating prices. Definitely worth watch the replay of this presentation to understand the journey from process mining to real-time operational monitoring and alerting.
It's clear that Celonis is repositioning from just process mining — a tool for a small number of business analysts in an organization — into operational process intelligence that would be a daily dashboard tool for a much large portion of the workforce. Many other process mining products are attempting an equivalent pivot, although Celonis seems to be a bit farther along than most.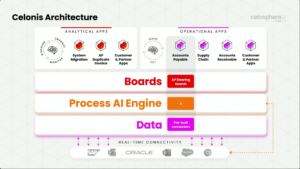 Martin Klenk, Celonis CTO, gave an update on their technology strategy, with an initial focus on how the Celonis architecture enables the creation of these real-time operational apps: real-time connectors feed into a data layer, which is analyzed by the Process AI Engine, and then exposed through Boards that integrate data and other capabilities for visualization. Operational and analytical apps are then created based on Boards. Although Celonis has just released two initial Accounts Payable and Supply Chain operational apps, this is something that customers and partners can build in order to address their particular needs.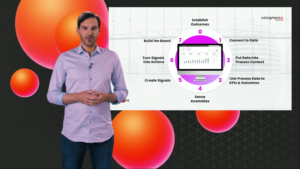 He showed how a custom operational app can be created for a CFO to show how this works, using a real-time connectors to Salesforce for order data and Jira for support tickets. He showed their multi-event log analytical capability, which makes it much easier to bring together data sources from different systems and automatically correlate them without a lot of manual data cleansing — the links between processes in different systems are identified without human intervention. This allows detection of anomalies that occur on boundaries between systems, rather than just within systems.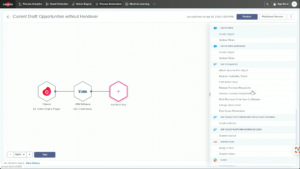 Signals can be created based on pre-defined patterns or from scratch, allowing a real-time data-driven alert to be issued when required, or an automation push to another system be triggered. This automation capability is a critical differentiator, allowing for a simple workflow based on connector steps, and can replace the need for some amount of other process automation technologies such as RPA in cases where those are not a good fit.
He was joined by Martin Rowlson, Global Head of Process Excellence at Uber; they are consolidating data from all of their operational arms (drive, eats, etc.) to analyze their end-to-end processes, and using process mining and task mining to identify areas for process improvement. They are analyzing some critical processes, such as driver onboarding and customer support, to reduce friction and improve the process for both Uber and the driver or customer.
Klenk's next guest as Philipp Grindemann, head of Business Development at Lufthansa CityLine, discussing how they are using Celonis to optimize their core operations. They track maintenance events on their aircraft, plus all ground operations activities. Ground operations are particularly complex due to the high degree of parallelism: an aircraft may be refueled at the same time that cargo is being loaded. I have to guess that their operations are changing radically right now and they are having to re-structure their processes, although that wasn't discussed.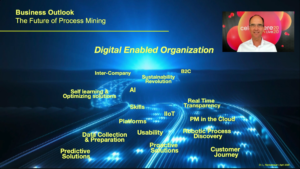 His last guest was Dr. Lars Reinkemeyer, author of Process Mining in Action — his book has collected and documented many real-world use cases for process mining — to discuss some of the expected directions of process mining beyond just analytics.
They then returned to a studio session for a bit more interactive Q&A; the previous technology roadmap keynote was pre-recorded and didn't allow for any audience questions, although I think that the customers that he interviewed will have full presentations later in the conference.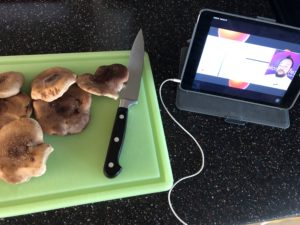 As we saw in at CamundaCon Live last week, there is no break time in the schedule: if you want to catch all of the presentations and discussions in real time, be prepared to carry your laptop with you everywhere during the day. The "Live from the Studio" sessions in between presentations are actually really interesting, and I don't want to miss those. Today, I'm using their mobile app on my tablet just for the streaming video, which lets me take screenshots as well as carry it around with me, then using my computer for blogging, Twitter, screen snap editing and general research. This means that I can't use their chat or Q&A functions since the app does not let you stream the video and use the chat at the same time, and the chat wasn't very interesting yesterday anyway.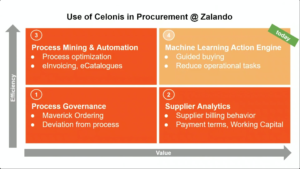 The next presentation was by Zalando, a European online fashion retailer, with Laura Henkel, their Process Mining Lead, and Alejandro Basterrechea, Head of Procurement Operations. They have moved beyond just process mining, and are using Celonis to create machine learning recommendations to optimize procurement workflows: the example that we saw provided Amazon-like recommendations for internal buyers. They also use the process automation capabilities to write information back to the source systems, showing how Celonis can be used for automating multi-system integration where you don't already have process automation technology in place to handle this. Their key benefits in adding Celonis to their procurement processes have been efficiency, quality and value creation. Good interactive audience Q&A at the end where they discuss their journey and what they have planned next with the ML/AI capabilities. It worked well with two co-presenters, since one could be identifying a question for their area while the other was responding to a different question, leaving few gaps in the conversation.
We broke into two tracks, and I attended the session with Michael Götz, Engineering Operations Officer at Celonis, providing a product roadmap. He highlighted their new operational apps, and how they collaborated with customers to create them from real use cases. There is a strong theme of moving from just analytical apps to operational apps that sense and act. He walked through a broad set of the new and upcoming features, starting with data and connectivity, through the process AI engine, and on to boards and the operational apps. I've shown some of his slides that I captured below, but if you're a Celonis customer, you'll want to watch this presentation and hear what he has to say about specific features. Pretty exciting stuff.
I skipped the full-length Uber customer presentation to see the strategies for how to leverage Celonis when migrating legacy systems such as CRM or ERP, presented by Celonis Data Scientist Christoph Hakes. As he pointed out, moving between systems isn't just about migrating the data, but it also requires changing (and improving) processes . One of the biggest areas of risk in these large-scale migrations is around understanding and documenting the existing and future-state processes: if you're not sure what you're doing now, then likely anything that you design for the new system is going to be wrong. 60% of migrations fail to meet the needs of the business, in part due to that lack of understanding, and 70% fail to achieve their goals due to resistance from employees and management. Using process mining to explore the actual current process and — more importantly — understand the variants means that at least you're starting from an accurate view of the current state. They've created a Process Repository for storing process models, including additional data and attachments
Hakes moved on to talk about their redesign tools, such as process conformance checking to align the existing processes to the designed future state. After rollout, their real-time dashboards can monitor adoption to locate the trouble spots, and send out alerts to attempt remediation. All in all, they've put together a good set of tools and best practices: their customer Schlumberger saved $40M in migration costs by controlling the migration costs, driving user adoption and performing ongoing optimization using Celonis. Large-scale ERP system migration is a great use case for process mining in the pre-migration and redesign areas, and Celonis' monitoring capabilities also make it valuable for post-migration conformance monitoring.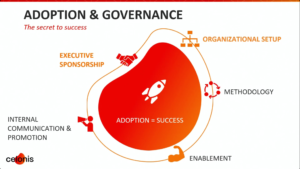 The last session of the day was also a dual track, and I selected the best practices presentation on how to get your organization ready for process mining, featuring Celonis Director of Customer Success Ankur Patel. The concurrent session was Erin Ndrio on getting started with Celonis Snap, and I covered that based on a webinar last month. Patel's session was mostly for existing customers, although he had some good general points on creating a center of excellence, and how to foster adoption and governance for process mining practices throughout the organization. Some of this was about how a customer can work with Celonis, including professional services, training courses, the partner network and their app store, to move their initiatives along. He finished with a message about internal promotion: you need to make people want to use Celonis because they see benefits to their own part of the business. This is no different than the internal evangelism that needs to be done for any new product and methodology, but Patel actually laid out methods for how some of their customers are doing this, such as road shows, hackathons and discussion groups, and how the Celonis customer marketing team can help.
He wrapped up with thoughts on a Celonis CoE. I'm not a big fan of product-specific CoEs, instead believing that there should be a more general "business automation" or "process optimization" CoE that covers a range of process improvement and automation tools. Otherwise, you tend to end up with pockets of overlapping technologies cropping up all over a large organization, and no guidance on how best to combine them. I wrote about this in a guest post on the Trisotech blog last month. I do think that Patel had some good thoughts on a centralized CoE in general to support governance and adoption for a range of personas.
I will check back in for a few sessions tomorrow, but have a previous commitment to attend Alfresco Modernize for a couple of hours. Next week is IBM Think Digital, the following week is Appian World, then Signavio Live near the end of May, so it's going to be a busy few weeks. This would normally be the time when I am flying all over to attend these events in person, and it's nice to be able to do it from home although some of the events are more engaging than others. I'm gathering a list of best practices for online conferences, including the things that work and those that don't, and I'll publish that after this round of virtual events. So far, I think that Camunda and Celonis have both done a great job, but for very different reasons: Camunda had much better audience engagement and more of a "live" feel, while Celonis showed how to incorporate higher production quality and studio interviews to good effect, even though I think it's a bit early to be having in-person interviews.