I attended the tutorial on Exploring Explorative Business Process Management with Max Röglinger, Thomas Grisold, Steven Gross and Katharina Stelzl, representing Universität Liechtenstein, Universität Bayreuth and Wirtschafts Universität Wien. This was a good follow-on from Kalle Lyytinen's keynote with the themes of emerging processes routines, and looked at the contrast between maximizing operational efficiency on pre-defined processes, and finding completely new ways of doing things: doing things right versus doing the right thing.
They frame these as exploitative BPM — the traditional approach of maximizing operational efficiency — and explorative BPM as a driver for innovation. Anecdotal evidence aside, there is research that shows that (pre-defined) BPM activities impede radical innovation because the lack of variance in processes means that we rarely have "unusual experiences" that might inspire radical new ways of doing things. In fact, most of the BPM research and literature is on incrementally improving business processes (usually via analytics), not process innovation or even process redesign.
The division between exploitative (improvement) and explorative (innovation) activities comes from organizational science, with "organizational ambidexterity" a measure of how well an organization can balance exploitation and exploration as they manage change. This can be seen to align with people and teams with delivery skills (analyzing, planning, implementation, self-discipline) versus those with discovery skills (associating, questioning, observing, networking, experimenting), and the need for both sides to work together.
In their research, they have defined three dimensions of process design — trigger, action and value proposition — with combinations of these for problem-driven versus opportunity-driven process improvement/innovation. Explorative BPM results in reengineered (not just incrementally improved) processes or completely new processes to offer the same, enhanced or new value propositions. In general, their definition of opportunities is tied to top-level business goals, while problems are essentially operational pain points. There was a discussion around the nature of problems and opportunities, and how the application of BPM (and BPM research) is expanding to more than just classical process management but also supporting business model innovation.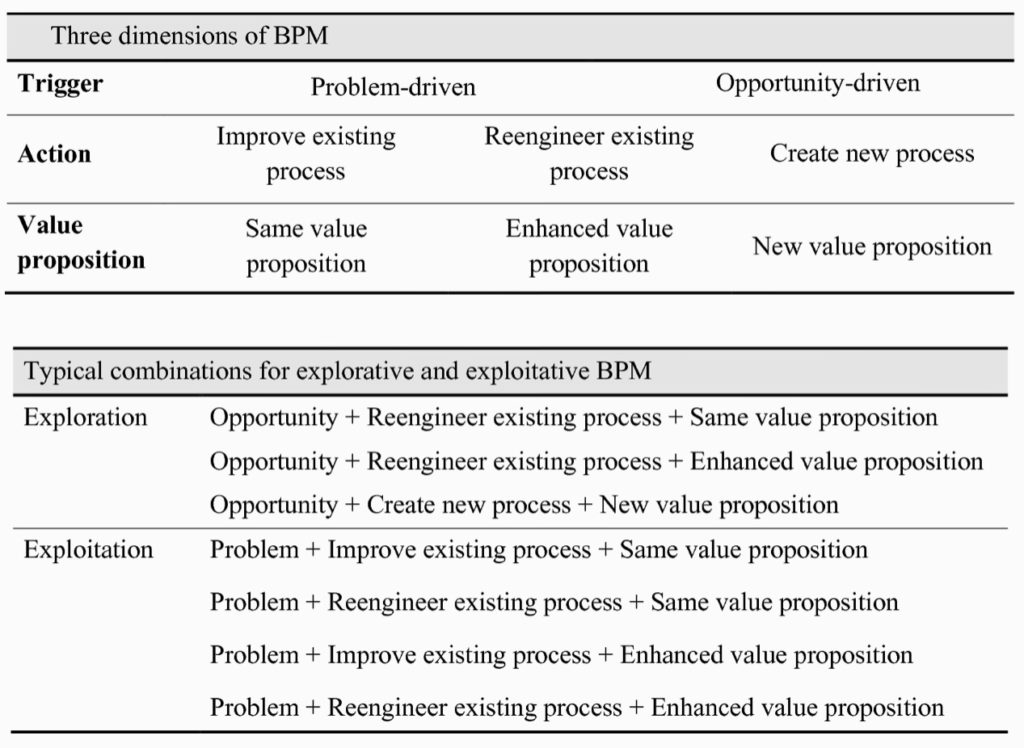 Having set the stage for what explorative BPM is and why it is important, we had a group exercise to explore explorative BPM, and generate ideas for how to go about process innovation. To finish the tutorial, they presented the results of their tutorial research paper with a potential method for explorative BPM: the triple diamond model.
Future research directions for explorative BPM may include ideas from other domains/disciplines; organizational capabilities required for explorative BPM; and the tools, methods and techniques required for its implementation.