The first research session that I attended at the academic BPM 2019 conference included three papers, each presented by one of the authors with time for questions and discussion. Note that I've only listed the presenting author in each case, but you can find all of the contributors on the detailed program and read the full papers in the proceedings.
Trust-Aware Process Design. Michael Rosemann, QUT
The research context for trust concepts in process come from a variety of disciplines, with trust being defined as confidence in a relationship where some uncertainty exists. He presented a four-stage model for trust-aware process design:
Identify moments of trust, including the points where it materializes, the requirements/concerns, and the stakeholders
Reduce uncertainty, including operational, behavioral and perceived uncertainty
Reduce vulnerability, which is the cost to the process consumer in case the process does not perform as expected
Build confidence through additional information and sources such as trust in an expert
He discussed different types of trust that can be used to increase confidence at points in a process, and summarized with a meta model that shows the relationship between uncertainty, trustworthiness and confidence. He finished with some of their potential future research, such as a taxonomy for trust.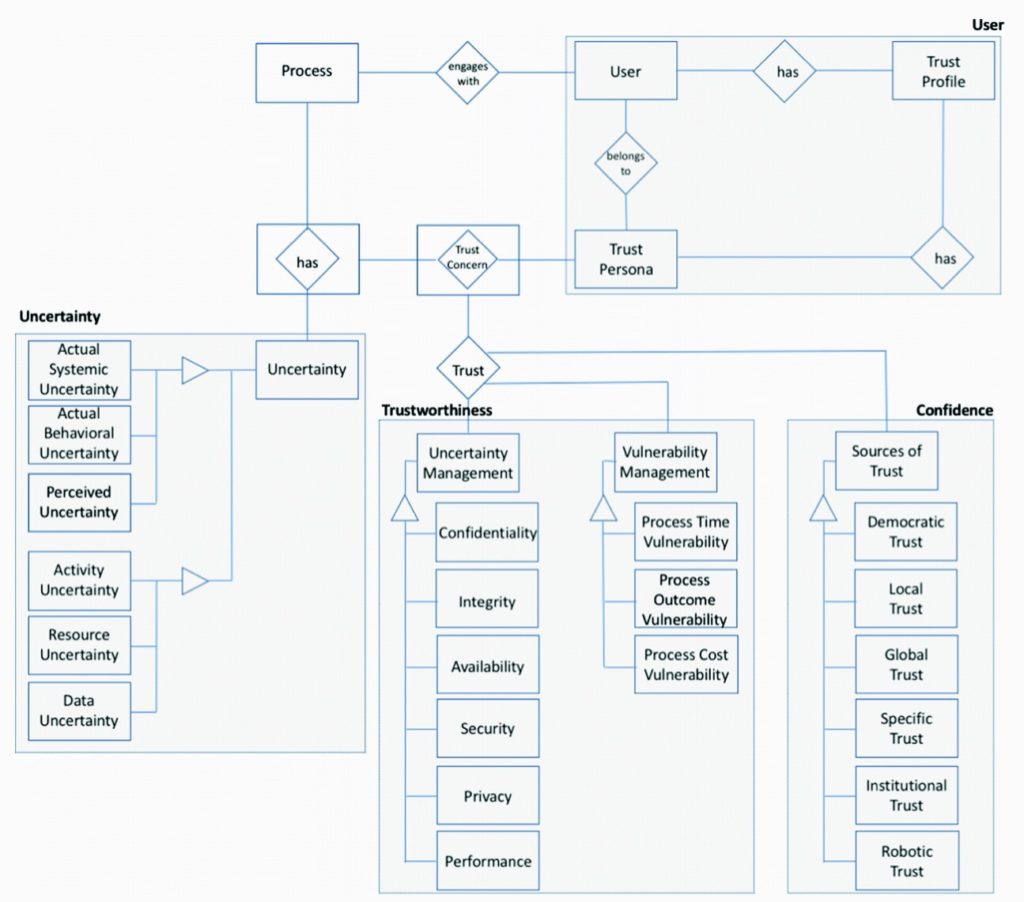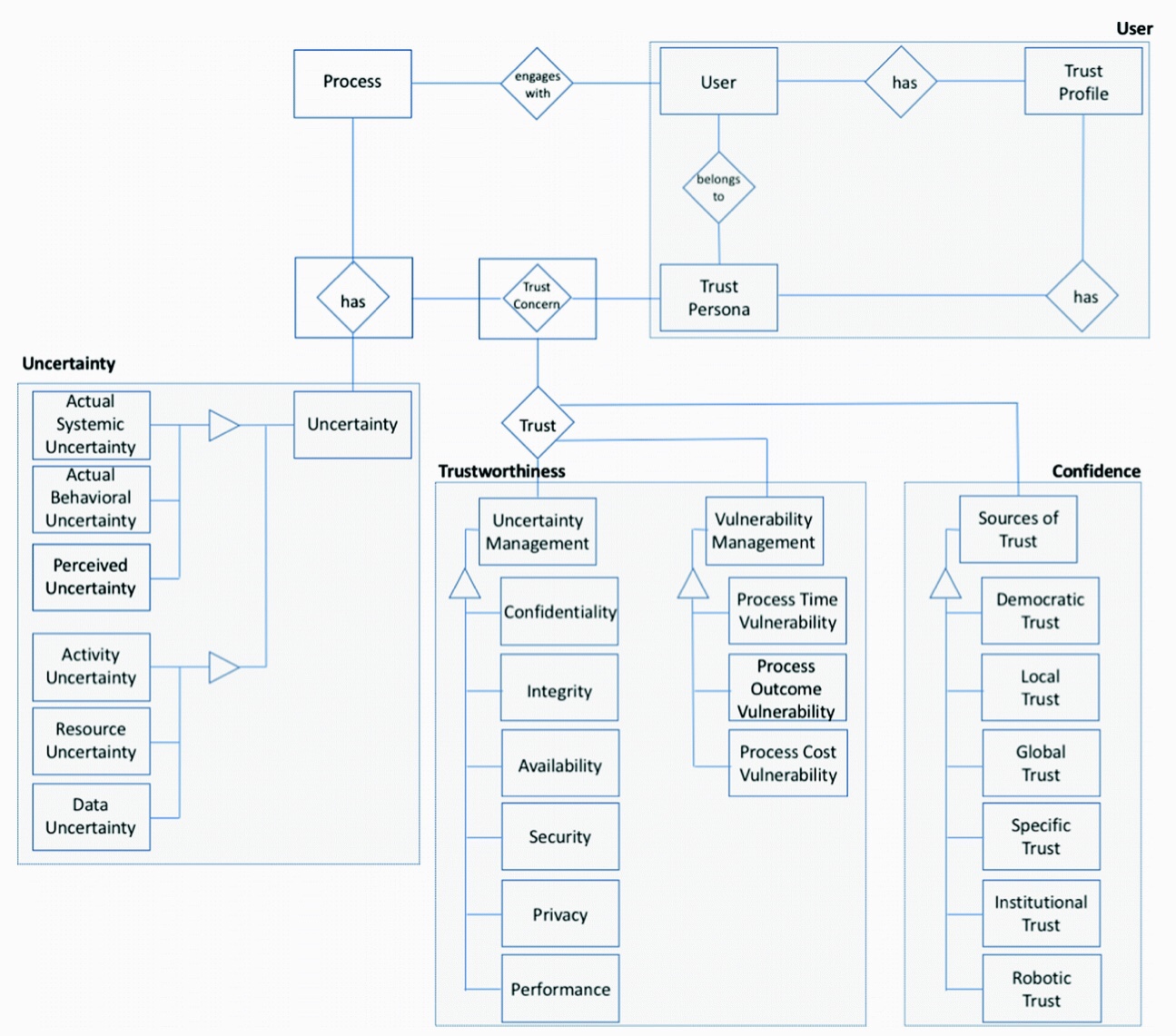 Design Patterns for Business Process Individualization. Bastian Wurm, WU Wien
There is an increased demand for individualized products and services, but this creates complexity and the need for process variants within a company: a balance between individualization to maximize revenue and standardization to minimize cost. There are different stages of individualization, from mass production (one size fits all) to mass customization (e.g., configure to order) to mass personalization (one of a kind production).
They started with a standard business process meta model, and noted that a lot of process improvement was based on reducing variants, and therefore pushing towards the mass production end of the spectrum. They generated design patterns for business process individualization:
Sequence and activity individualization, where mass personalization has activities and processes unique to each customer.
Flow unit individualization, where the sequence (process) may be standardized, but what is delivered to the customer at a specific point is unique.
Resource individualization, where the process is standardized but the resource assigned to complete a task is the most suitable match to the customer's needs.
Data individualization, where data requested from/presented to the customer and the decisions that may be based on it is unique to the customer and context.
Their future research will include collecting primary data to test their models and hypotheses, and they're interested in experiences or ideas from others on how this will impact BPM.
Business Process Improvement Activities: Differences in Organizational Size, Culture and Resources. Iris Beerepoot, Utrecht University
This research was based on studying the daily work of healthcare professionals in five hospitals, including human activities and how they worked with (or around) the healthcare information systems. Any time that the user had to do a workaround on the system, this was considered as a deviation and examined to see if there was a poorly-designed process or system, if the individual was overstepping their authority, if there was an organizational context that required a deviation, or if there was a unique situation that required a one-time solution.
They considered the context — size, culture (flat or hierarchical organizational structure) and resources — within the five different hospitals; then they looked at snapshots of the workarounds as they occurred within specific organizations and how this impacted business process improvement activities. For example, the more hierarchical the organization, the greater importance to having management commitment and vision; in less hierarchical organizations it was more important to adhere to current culture. Larger and smaller organizations had demonstrably different ways of addressing process improvement.
Together with the studies and focus groups, they identified a fourth contextual factor (in addition to size, culture and resources): the maturity of an organization. I assume there is some degree of correlation between some of these factors, for example, a larger organization may be more likely to have a more hierarchical culture and greater resources.
Good audience discussion at the end about the nature of workarounds — intentional/unintentional versus positive/negative — and the potential inclusion of endogenous factors in addition to the exogenous ones used in this study. As with all of the research papers, there are plenty of future research directions possible.