I'm in Boston for the next two days for OpenText's annual analyst summit; Patty Nagle, CMO, kicked things off in the first session, then we had a keynote from CEO/CTO Mark Barrenechea. They're coming up on 30 years in existence, which is definitely a milestone for any technology company, and they've grown to 15,000 employees in over 30 countries, in part through their pattern of growth through acquisition. They sell through a large direct salesforce, as well as through their 27,000 partners and directly from their website.
The latest acquisition is Carbonite, which seems a pretty good fit with their cloud/edge content strategy, and Barrenchea discussed where Carbonite fits into their strategy some detail: decentralized computing, small/medium business and consumer audience, and cyber-resilience. OpenText has promoted the term enterprise information management (EIM) in the past, and now are dropping the "E" to be just information management as they enter the smaller end of the market.
They are following the lead of smaller (arguably more nimble) vendors with a move to quarterly product releases for their core content management, and their product versioning will reflect that with a YY.Q version number (e.g., 20.2). Their release 16 will become Cloud Edition 20.2 with the April release, with OT2 and Business Network following the same version numbering. The push to the cloud continues, and if you go to their website now, you'll see a link to their cloud logins. I'm not sure that having quite so many different logins is a good thing, but I get that there are different audiences for this.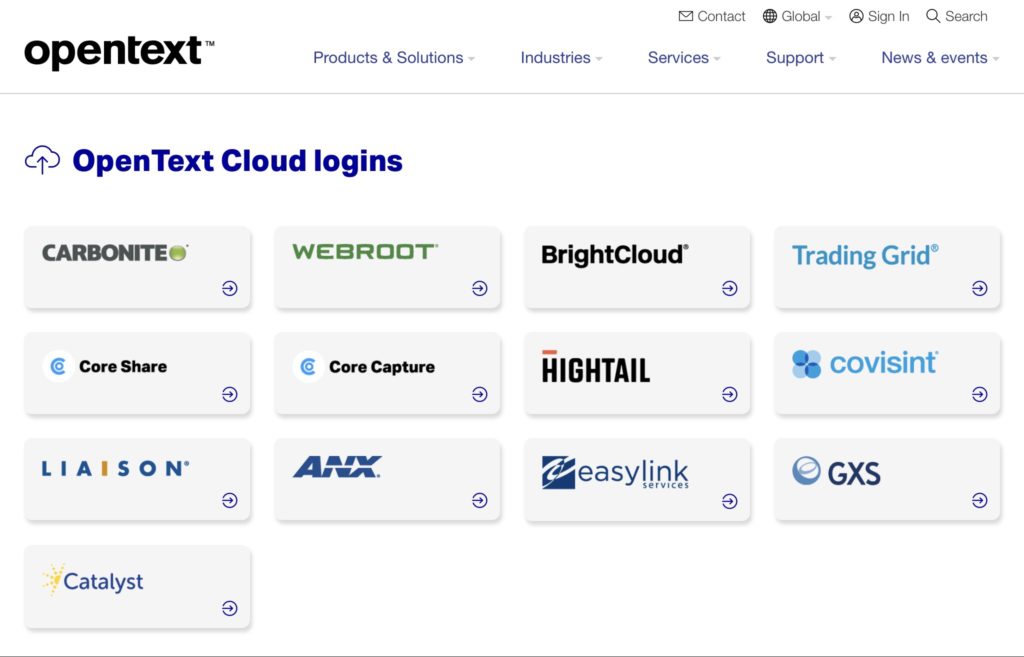 He also covered their business network and cyber resilience offerings, which are a bit peripheral to my interests; then on to their digital accelerants, which is a mixed bag of capabilities including low-code development, AI, IoT, process automation and analytics. They showed a demo of Magellan analytics visualizing World Health Organization data on COVID-19 — a timely example — showing the trends of the disease spread in human healthcare terms, but also the impact on business and markets.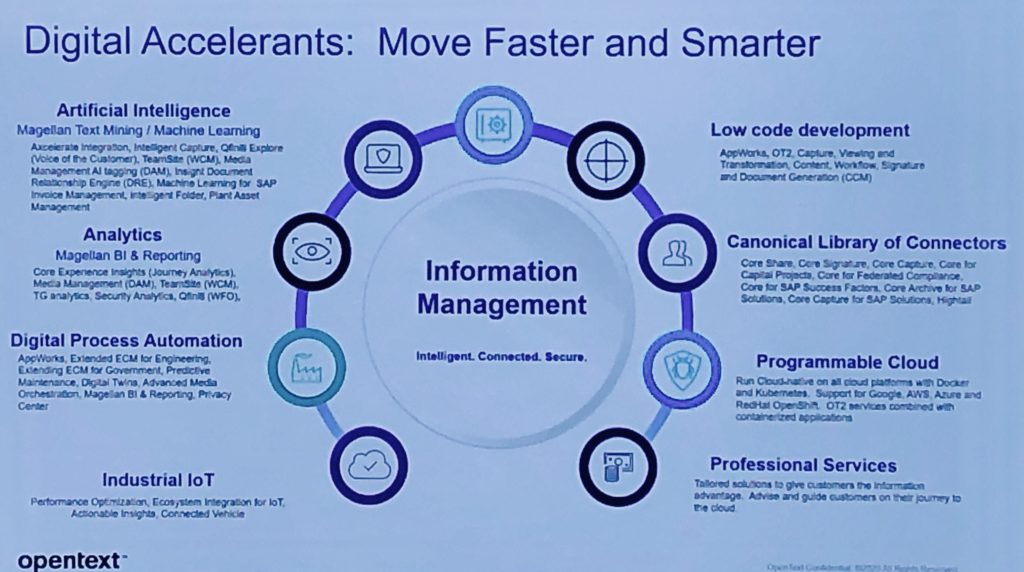 Their key corporate priorities include maintaining market leadership in information management, with expansion to all size of customers; continued move to the cloud; and becoming more of an applications company. I've seen a few horizontal technology vendors fail spectacularly on building applications, so it will be interesting to see what they can accomplish there.
We heard briefly about BrightCloud Threat Intelligence, part of the Carbonite acquisition, and saw a demonstration of the Webroot BrightCloud Threat Investigator. Webroot was only acquired by Carbonite less than a year ago, and the branding didn't even have time to change to Carbonite before becoming part of OpenText. OpenText plans to integrate this into their other offerings to provide better security for content and access to third-party sites and services.
Barrenechea ended with a call to arms to address climate change, ethical supply chains, overuse of plastics and other issues threatening society at large. Not what you usually hear from a technology CEO, but they are pushing a brand of "technology for the good".
Ted Harrison, EVP of sales, finished the session by hosting a customer panel featuring Peter Chen of Stericycle, Shyam Pitchaimuthu of Chevron, and Gurreet Sidhu of BMO Financial Group. Stericycle and Chevron are both OpenText content management customers, with broad usage across their organizations and deep integration into other systems and processes. BMO is using the OpenText Trading Grid for B2B payment solutions, and appreciate the elastic scalability of the platform as business sectors expand and contract. Stericycle and Chevron both moved to cloud content management as part of their cloud-first strategy, with Chevron doing a conversion from on-premise Documentum to Azure. BMO went with OpenText's managed services to allow them greater customization and security without running the core infrastructure themselves. Good discussion of how they're using OpenText products, and the transition to their current state.