I recently held a webinar on low code and case management, along with Roger King and Nicolas Marzin of TIBCO (TIBCO sponsored the webinar). We tossed aside the usual webinar presentation style and had a free-ranging conversation over 45 minutes, with Nicolas giving a quick demo of TIBCO's Live Apps in the middle.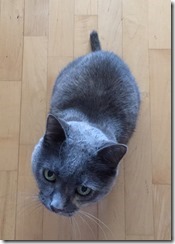 Although preparing for a webinar like this takes just as long as a standard presentation, it's a lot more fun to participate. I also think it's more engaging for the audience, even though there's not as much visual material; I created some slides with a few points on the topics that we planned to cover, including some fun graphics. I couldn't resist including a visual pun about long tail applications.

You can find the playback here if you missed it, or want to watch again. If you watched it live, there was a problem with the audio for the first couple of slides. Since it was mostly me giving some introductory remarks and a quick overview of case management and low code, we just re-recorded that few minutes and fixed the on-demand version.
I'm finishing up a white paper for TIBCO on case management and low code, stressing that not only is low code the way to go for building case management applications, but that a case management paradigm is the best fit for low code applications. We should have that in publication shortly, so stay tuned. If you attended the webinar, you should receive a link to the paper when it's published.