Urban Tech Hero is a non-profit organization with the mission to connect underserved youth to the superpower of tech by achieving IT certification and employment. Danny DeJesus, Adriel Henderson and Jonathan Patridge took the stage to talk to us about what they do, and their longer term vision of transforming underserved communities from economically disadvantaged to technologically empowered. Danny, the founder of Urban Tech Hero, had his own life personally transformed during his teens when he learned to read, broke out of his societal and economic constraints, and eventually discovered the power of technology. Adriel, their program manager, saw technology as a way to let her do more for Urban Tech Hero and her life in general. And Jono is the process engineer who learned Camunda and brought it to life within Urban Tech Hero.
Their onboarding process, like that of many much larger organizations, was a bit of a mess: someone handling student onboarding had a lot of manual work across multiple applications, and there was insufficient feedback to the potential students about what was happening in the process.
They took advantage of the Camunda for Common Good program for software, training and support, and built an onboarding process that was more efficient and provided better control over the process. We saw their actual process model with a simulation of how it works; like many onboarding processes, this is a matter of passing through a number of tasks that are gates to success, such as submitting an application, setting up and completing an interview, acceptance decisions, sending notification emails, and some lightweight integration with applications such as Google Forms.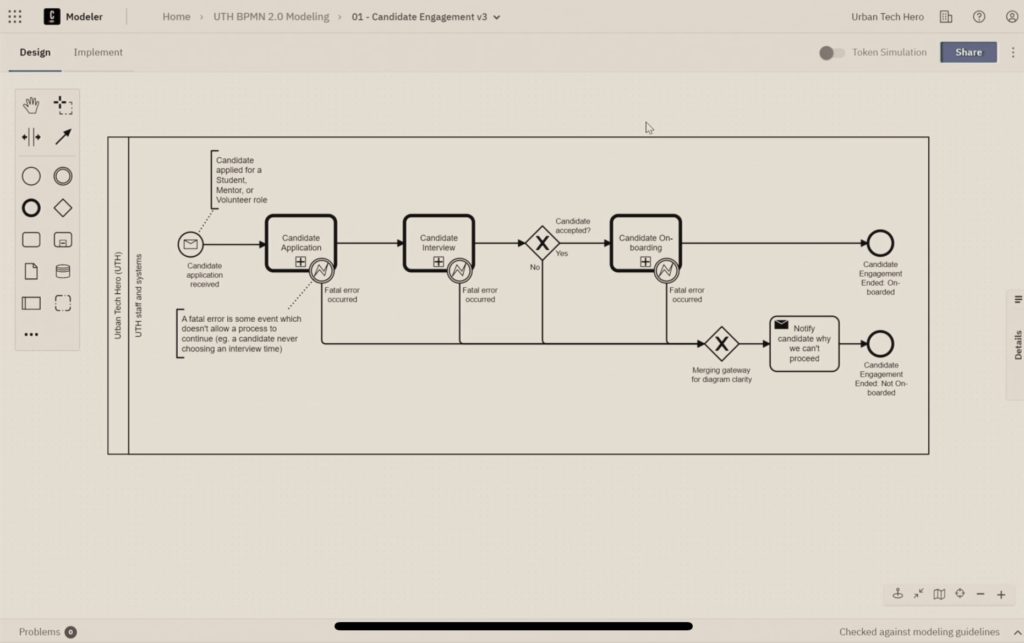 They still have a lot to do in terms of automation, but they are driven to improve their efficiency because they have a small number of people to do a lot of tasks. There was a lot of interest and questions from the audience: not only is this an inspiring story of a small non-profit using technology to do something that really makes a difference, it's a good demonstration of how to get started using process orchestration to tackle a messy manual onboarding problem. In spite of being relatively new to Camunda, they have an incredible amount of knowledge about how to use it within their context, and have a few ideas for projects in the works for future improvements.