With a quick nod to Ada Lovelace Day (which was yesterday) and women in technology, Bizagi's Catalyst virtual conference kicked off today with a presentation by Rachel Brennan, Senior Director of Product Marketing, and Marlando Rhule, Professional Services Director, on some of the new industry accelerators available from Bizagi. The first of these was onboarding and KYC (know your client) process, including verification and risk assessment of both business and individual clients. Secondly was a permit lifecycle management process, specifically for building (and related) permits for municipal and state governments; it orchestrates communications between multiple applications for zoning and inspections, gathers information and approvals, generates letters and permits, and drives the overall process.
Coming soon, they will be releasing the APQC Process Classification Framework for Bizagi Modeler: the APQC frameworks are a good source of pre-built processes for specific industries as well as cross-industry frameworks.
Rachel also announce the Bizagi hackathon, which runs from October 19 to November 14. From the hackathon website:
It can be a new and innovative Widget to improve Bizagi´s forms, a new connector that extends Bizagi´s capabilities to connect with external systems or an experience-centric process using Bizagi Sites and Stakeholder concepts.
As with yesterday, the platform was pretty unstable, but eventually the second session stated with Luigi Mule of Blue Prism and their customer Royston Clark from Old Mutual, a financial services group in African and Asian markets. As I mentioned yesterday (and last week at another virtual conference) BPM vendors and RPA vendors are finally learning how to cooperate rather than position themselves as competitors: BPM orchestrates processes, and invokes RPA bots to perform tasks as the steps in the process. Eventually, many of the bots will be replaced with proper APIs, but in the meantime, bots provide value through integrating with legacy systems that don't have exposed APIs.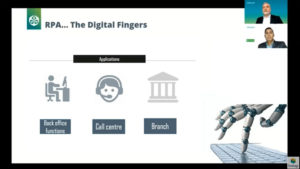 At Old Mutual, they have 170 bots, 70% of which are integrated in a Bizagi process. Since they started with Blue Prism, they have automated the equivalent of eight million minutes of worker time: effectively, they have given that amount of time back to the business for more value-added activities. The combination of Bizagi and Blue Prism has given them a huge increase in agility, able to change and automate processes in a very short time frame.
Next up was supposed to be my keynote on aligning intelligent automation with incentives and business outcomes, but the broadcast platform failed quite spectacularly and Bizagi had to cancel the remainder of the day, which included the planned live Q&A after my presentation (I'd like to imagine that I'm so popular that I broke the internet). That also means that we missed the Q&A, but feel free to ask questions in the comments here, or on Twitter. You can see my slides below, and the keynote is recorded and available for replay.
I've been writing and presenting about aligning incentives with business processes for a long time, since I recognized that more collaborative and ad hoc processes needed to have vastly different metrics than our old-school productivity widget-counting. This was a good opportunity to revisit and update some of those ideas through the pandemic lens, since worker metrics and incentives have shifted quite a bit with work from home scenarios.
Assuming they have the event platform back online tomorrow, I'll be back for a few of the sessions, and to catch up on some of today's sessions that I missed.