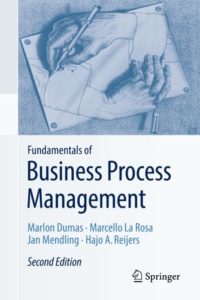 Springer, a publisher of academic journals and books, is offering many textbooks and papers for free right now; normally these come at a hefty price. Although they state that they are offering these "to support learning and teaching at higher education institutions worldwide", there are no restrictions for anyone to download them. The first of these that I found of particular interest is Fundamentals of Business Process Management (2018) by Marlon Dumas, Marcello La Rosa, Jan Mendling and Hajo Reijers. This is a classic textbook used for teaching BPM at the university level, although useful to practitioners looking to dig a bit deeper into subjects.
The second one is Business Process Management Cases (2018) by Jan vom Brocke and Jan Mendling. This is a collection of real-world case studies highlighting best practices and lessons learned, hence aimed at a professional practitioner audience as well as students. Each case study chapter is written by a different author, and they are grouped into sections focused on Strategy and Governance, Methods, Information Technology, and People and Culture.
If you check out the SpringerLink search page, you'll find a wide variety of books and papers available to download as PDF and/or EPUBs. To see the ones that are free, uncheck the "Include Preview-Only content" box near the top left. You can filter to see only certain types of content (e.g., books), as well as by discipline and language.
Thanks to Marlon Dumas and Jan Mendling for giving the shout out on Twitter about this.