Yesterday, I passed on a link to The Master Channel's free e-learning courses that you can use to start skilling up if you're on the bench right now due to COVID-19. I'm also aware of a few companies in our industry who are offering free apps — some just to customers, some to everyone — that can help to fight COVID-19 in different ways.
The ability to build apps quickly is a cornerstone in our industry of model-driven development and low-code, and it's encouraging to see some good offerings on the table already in response to our current situation.

Appian was first out of the blocks with a COVID-19 Response Management application for collecting and managing employee health status, travel history and more in a HIPAA-compliant cloud. You can read about it on their blog, and sign up for it online. Their blog post says that it's free to any enterprise or government agency, although the signup page says that it's free to organizations with over 1,000 employees — not sure which is accurate, since the latter seems to exclude non-customers under 1,000 employees. It's free only for six months at this point.
Pegasystems followed closely behind with a COVID-19 Employee Safety and Business Continuity Tracker, which seems to have similar functionality to the Appian application. It's an accelerator, so you download it and configure it for your own needs, a familiar process if you're an existing Pega customer — which you will have to be, because it's only available for Pega customers. The page linked above has a link get the app from the Pega Marketplace, where it will be free through December 31, 2020.
Trisotech is going in a different direction by offering several free online COVID-19 assessment tools based on clinical guidelines: some for the general public, and some to be used by healthcare professionals.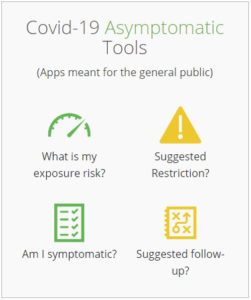 As a founding member of OMG's BPM+ Health community, Trisotech has been involved in developing shareable clinical pathways for other medical conditions (using visual models in BPMN, CMMN and/or DMN), and I imagine that these new tools might be the first bits of new shareable clinical pathways targeted at COVID-19, possibly packaged as consumable microservices. You can click on the tools and try them out without any type of registration or preparation: they ask a series of questions and provide an assessment based on the underlying business rules, and you can also upload files containing data and download the results.
My personal view is that making these apps available to non-customers is sure to be a benefit, since they will get a chance to work with your company's platform and you'll gain some goodwill all around.