It seems like just yesterday that we were in beautiful Bolzano, but I've been back at my desk for more than a month and still wading through some of the news stories from when I was away.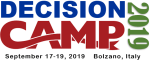 I noticed this wrapup of the sessions from Jacob Feldman which includes a link to all of the presentation slide decks, plus a more in-depth explanation of his presentation.
He also covers some of the particularly interesting topics in more detail, including the need for DMN 2.0, the user-friendliness of FEEL and several real-world use cases.
I also had a note from Dario Campagna regarding the post that I wrote about his presentation; I've updated it to reflect that the work that he presented is part of the COMPOSELECTOR project, to which ESTECO is a contributor. My apologies for the omission of the overarching project in the original version of the post, although I was live-blogging so some detail is always missed.