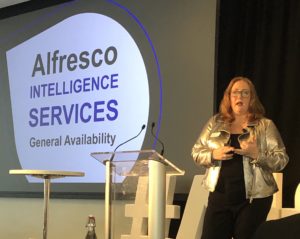 Bernadette Nixon, who assumed the role of CEO after Alfresco's acquisition last year, opened the analyst day with the company strategy. They seem to be taking a shot at several of their competitors by pushing the idea that they're one platform, built from the ground up as a single integrated platform rather than being a "Frankenplatform" pieced together from acquisitions. Arguably, Activiti grew up inside Alfresco as quite a separate project from the content side and I'm not sure it's really as integrated as the other bits, but Alfresco sometimes forgets that content isn't everything.
Nixon walked through what's happened in the past year, starting with some of their customer success stories — wins against mainstream competitors, fast implementations and happy customers — and how they've added 126 new customer logos in the past year while maintaining a high customer renewal rate. They've maintained a good growth rate, and moved to profitability in order to invest back into the company for customer success, developing their teams, brand refresh, engineering and more. They've added many of the big SIs as new partners and are obviously working with the partner channel for success, since they've doubled their partner win rate. They've added five new products, including their Application Development Framework which is the core for some of the other products as well as the cornerstone of partner and customer success for fast implementation.
They commissioned a study that showed that most organizations want to be deployed in the cloud, have better control over their processes, and be able to create applications faster (wait…they paid for that advice?); more interestingly, they found that 35% of enterprises want to switch out their BPM and ECM platforms in the next few years, providing a huge opportunity for Alfresco and other disruptive vendors.
Alfresco is addressing the basic strategy of a horizontal platform approach versus a use case vertical approach: are they a platform vendor or an application vendor? Their product strategy is betting on their Alfresco Digital Business Platform targeted at the technical buyer, but also developing a go-to-market approach that highlights use cases primarily in government and insurance for the business/operational buyer. They don't have off-the-shelf apps — that's for their partners or their customers to develop — but will continue to present use cases that resonate with their target market of financial services, insurance, government and manufacturing.
A good start to the day — I'll be here all day at the analyst conference, then staying on tomorrow for the user conference.