Muhi Majzoub, EVP of Engineering, continued the first day of the analyst summit with a deeper look at their technology progress in the past year as well as future direction. I only cover a fraction of OpenText products; even in the ECM and BPM space, they have a long history of acquisitions and it's hard to keep on top of all of them.
Their Content Services provides information integration into a variety of key business applications, including Salesforce and SAP; this allows users to work in those applications and see relevant content in that context without having to worry where or how it's stored and secured. Majzoub covered a number of the new features of their content platforms (alas, there are still at least two content platforms, and let's not even talk about process platforms) as well as user experience, digital asset management, AI-powered content analytics and eDiscovery. He talked about their solutions for LegalTech and digital forensics (not areas that I follow closely), then moved on to the much broader areas of AI, machine learning and analytics as they apply to capture, content and process, as well as their business network transactions.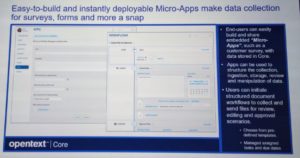 He talked about AppWorks, which is their low-code development environment but also includes their BPM platform capabilities since they have a focus on process- and content-centric applications such as case management. They have a big push on vertical application development, both in terms of enabling it for their customers and also for building their own vertical offerings. Interestingly, they are also allowing for citizen development of micro-apps in their Core cloud content management platform that includes document workflows.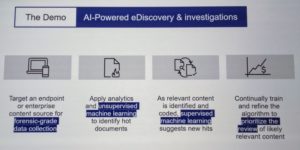 The product session was followed by a showcase and demos hosted by Stephen Ludlow, VP of Product Marketing. He emphasized that they are a platform company, but since line-of-business buyers want to buy solutions rather than platforms, they need to be able to demonstrate applications that bring together many of their capabilities. We had five quick demos:
AI-augmented capture using Captive capture and Magellan AI/analytics: creating an insurance claim first notice of loss from an unstructured email, while gathering aggregate analytics for fraud detection and identifying vehicle accident hotspots.
Unsupervised machine learning for eDiscovery to identify concepts in large sets of documents in legal investigations, then using supervised learning/classification to further refine search results and prioritize review of specific documents.
Integrated dashboard and analytics for supply chain visibility and management, including integrating, harmonizing and cleansing data and transactions from multiple internal and external sources, and drilling down into details of failed transactions.
HR application integrating SAP SuccessFactors with content management to store and access documents that make up an employee HR file, including identifying missing documents and generating customized documents.
Dashboard for logging and handling non-conformance and corrective/preventative actions for Life Sciences manufacturing, including quality metrics and root cause analysis, and linking to reference documentation.
Good set of business use cases to finish off our first (half) day of the analyst summit.