Day 2 of Pegaworld 2016 – another full day on the schedule.
The keynote started with Gilles Leyrat, SVP of Customer and Partner Services at Cisco, discussing how they became a more digital operation in order to provide better customer service and save costs. Cisco equipment provides a huge part of the backbone of the internet, supporting digital transformation for many other organizations, but this was about how they are transforming themselves to keep pace with their customers as well as their competitors. They are using Pega to digitize their business by connecting people and technology, automating processes, and using data for real-time analytics and process change to support their 20,000-strong sales team and 2M orders per year.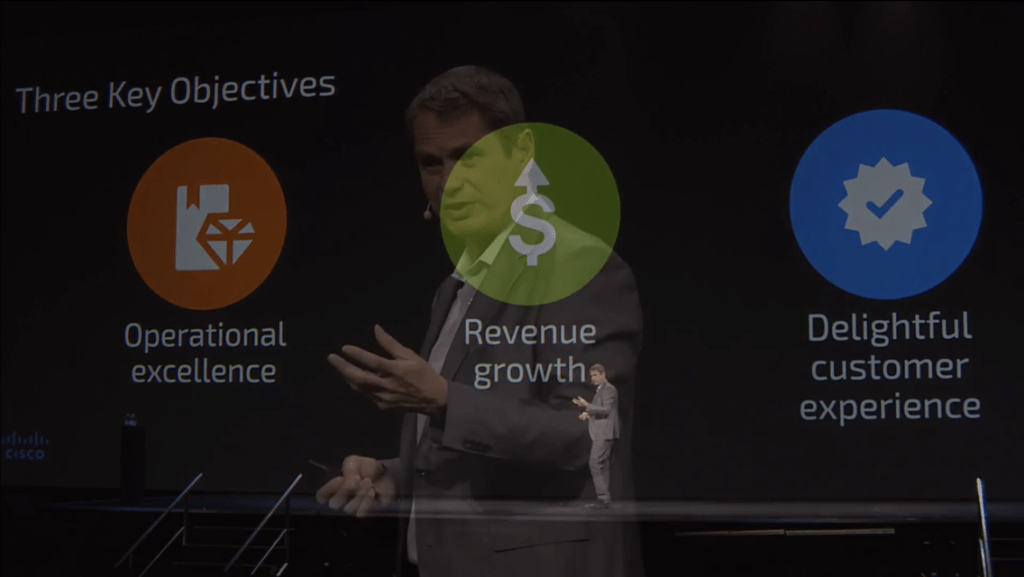 Their digitization has three key goals: operational excellence, revenue growth, and "delightful" customer experience. Customer experience is seen as being crucial to revenue growth, with strong causal links showing up in research. He compared the old world — offshore customer service centers augmented by onshore specialists — with the new digital world, where digitization is a means to achieving their customer experience goal by simplifying, automating and using analytics. By reducing human touch in many standard processes, they are able to reduce wait time for customers while allowing workers to focus on interacting with customers to resolve problems: 93% of cases are now handled with zero touch, saving 2M hours of wait time per year and reducing order resolution time to 6 hours. The employee experience is improved through integrated workplaces and actionable intelligence that support their work patterns. He ended with the advice to understand what you're trying to achieve, and linking your digital transformation initiatives to those goals.
Next was a panel on digital transformation moderated by Christopher Paquette, Digital Principal at McKinsey, including Alistair Currie, COO at ANZ Bank; Toine Straathof, EVP at Rabobank; Kevin Sullivan, SVP and Head of the Decision Sciences Group at Fifth Third Bank; and Nicole Gleason, Practice Lead for Business Intelligence & Analytics at Comet Global Consulting. A few notes from the panel (I mostly haven't attributed to the specific speaker since the conversation was free-ranging):
Digital transformation is being driven by rapidly-changing customer expectations
Banking customers prefer mobile/online first, then ATM, then branch, then call center; this aligns well with operational costs but requires that the digital platforms be built out first
Moving internal stakeholders off their old methods and out of operational silos can be more difficult than dealing with regulators and other external parties
Making IT and business people responsible for results (e.g., a guiding business architecture) rather than dictating their exact path can lead to innovation and optimal solutions
Employee incentives need to be consistent across channels to lessen the competition across them
A lot of current digitization efforts are to bridge/hide the complexity of existing legacy systems rather than actual digital transformation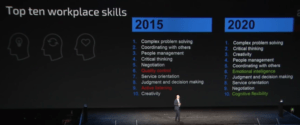 Alan Trefler returned to the stage to introduce the concepts of the fourth industrial revolution and workforce disruption; he sees what is happening now as a step change in how society works and how we interact with technology. We heard from Alan Marcus, Head of the Technology Agenda at the World Economic Forum, on this topic, and how new categories of jobs and the required skill sets will completely transform employment markets. Lots of opportunities, but also lots of disruption, in both first world and emerging markets. He covered a timeline of changes and their impacts, and stressed that skill sets are changing quickly: 35% of core skills will change by 2020.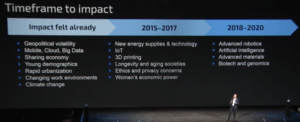 Companies need to expose workers to new roles and training, and particularly open doors to women in all roles. Creativity will become a core skill, even as AI technologies gain acceptance. Governments and education systems need to innovate to support the changing workforce. Organizations need to reinvent their HR to help employees to move into this brave new world.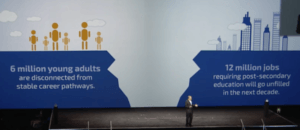 The keynote finished with Gerald Chertavian, Founder and CEO at Year Up, an organization that helps low-income youth prepare for a professional job. There's a social justice goal of helping young adults who have no college degree (and no path to get one) to become hireable talent through practical training and internships; but there's also the side benefit of feeding skilled workers into the rapidly-changing technology-heavy employment market that Marcus discussed earlier. Year Up was contacted by American Express, who needed people trained in Java and Pega in order to re-onshore some of their development work; they created a curriculum targeted at those jobs and trained up a large number of people who then competed successfully for those jobs.

Year Up is now in 18 cities across the US, working with large organizations to identify skills gaps and train people to suit the employment pipeline. They're changing tens of thousands of lives by providing a start on the path to upward mobility, and feeding a need for companies to hire the right skills in order to transform in this fourth industrial revolution.