Howard Johnson and Keith Weber from American Express talked about their digital transformation to accommodate their expanding market of corporate card services for global accounts, middle market and small businesses. Digital servicing using their @work portal was designed with customer engagement in mind, and developed using Agile methodologies for improved flexibility and time to market. They developed a set of guiding principles: it needed to be easy to use, scalable to be able to manage any size of servicing customer, and proactive in providing assistance on managing cash flow and other non-transactional interactions. They also wanted consistency across channels, rather than their previous hodge-podge of processes and teams depending on which channels.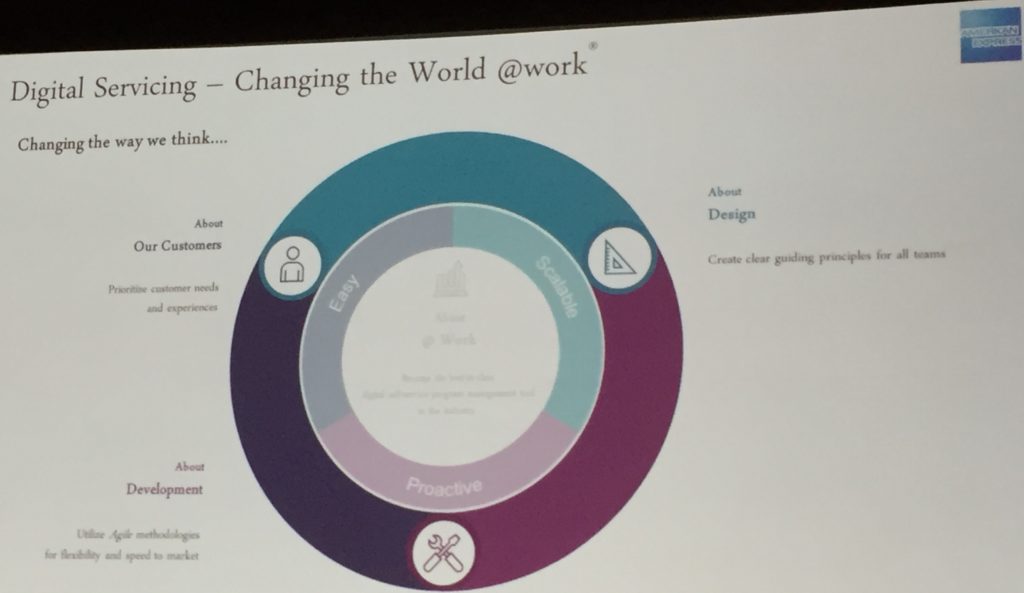 AmEx used to be a waterfall development shop — which enabled them to offshore a lot of the development work but meant 10-16 months delivery time — but have moved to small, agile teams with continuous delivery. Interesting when I think back to this morning's keynote, where Gerald Chertavian of Year Up said that they were contacted by AmEx about providing trained Java/Pega developers to help them with re-onshoring their development teams; the AmEx presenter said that he had four of the Year Up people on his team and they were great. This is a pretty negative commentary on the effectiveness of outsourced, offshore development teams for agile and continuous delivery, which is considered essential for today's market. AmEx is now hiring technical people for onshore development that is co-located with their business process experts, greatly reducing delivery times and improving quality.

Technology-wise, they have moved to an omni-channel platform that uses Pega case management, standardizing 65% of their processes while providing a single source of the truth. This has resulted in faster development (lower cost per market and integration time, with improved configurability) while enabling future capabilities including availability, analytics and a process API. On the business side, they're looking at a lot of interesting capabilities for the future: big data-enabled insights, natural language search, pluggable widgets to extend the portal, and frequent releases to keep rolling this out to customers.
It sounds like they're starting to use best practices from a technology design and development standpoint, and that's really starting to pay off in customer experience. It will be interesting to see if other large organizations — with large, slow-moving offshore development shops — can learn the same lessons.