It's webinar day here at Column 2: this is my third in a row, this one an update on the BPMN 2.0 standard by Robert Shapiro, who participates in both the OMG BPMN 2.0 and WfMC XPDL 2.2 standards efforts. We're already starting to see vendor support for BPMN 2.0, even though it's not yet fully released, as well as books and training materials.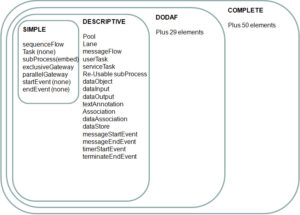 The concept of subclasses in process modeling has been included in this version, where there is a simple subset of eight elements used for process capture by non-technical process analysts/owners (start, end, sequence flow, task, subprocess, expanded subprocess, exclusive gateway, parallel gateway), then a larger subset for a "descriptive" persona, a larger-still subset for a "DODAF" persona, then the entire set of more than 100 elements.
You can download the accompanying PowerPoint deck for a more complete view of subclasses and their corresponding personas. I can certainly understand why many of the event variations were pushed out of the simple subclass, but I'm not sure that I agree with excluding pools and lanes, since these are pretty commonly used constructs. Also not sure why the US DoD's enterprise architecture standard is impacting what is supposed to be an international standard.
These subclasses are important for vendors of modeling tools, but also for those looking to use BPMN as a standard for representing processes: this gives a good idea of how to split up the standard by the type of reader (persona) so that you don't overwhelm the less technical audiences with too much detail, but also provide the greater levels of details for complete process specification.
Shapiro went on to discuss what most consider to be the most important (and likely the most controversial) part of BPMN 2.0: diagram interchange; BPMN 2.0 does not include an XSD schema, and there is ongoing work to create an XSD that is aligned with the metamodel. For those of you who follow BPM standards, you'll know that XPDL is currently the de facto standard for process model interchange, supported by many vendors; these efforts are continuing in a separate organization (BPMN is managed by OMG, XPDL by WfMC) so it's good that Shapiro and others are there to bridge the efforts across the two standards. We're now seeing the emergence of XPDL 2.2, which will support the interchange of BPMN 2.0 process models. XPDL may eventually disappear in the face of a comprehensive BPMN 2.0 diagram interchange standard, but that will take years to happen, and a lot can happen in that time. In the meantime, XPDL will likely be used as an alternative diagram interchange format for BPMN 2.0 diagrams, with vendor support required for both standards.
The Business Process Incubator site has been created by several of the companies participating in both BPMN and XPDL standards efforts as a source for information as well as a variety of standard-related tools such as Visio templates. Shapiro also predicts that many tool vendors will release web-based BPMN 2.0 modelers, as well as BPMN and XPDL converters.
If you're interested in where BPM standards are headed, it's worth listening to the entire webinar, especially the Q&A at the end; I imagine that it will be available at the registration link on the WfMC site that I posted in the first paragraph.