We had a brief address by Joseph Lagioia, SVP and head of consulting for Satyam (a big partner of Software AG, and winner of this year's partner innovation award), then he joined a panel discussion along with winners of the Software AG customer innovation awards: Jim Kern of Morgan Stanley, Robert Rennie of Florida Community College, and Bruce Beeco of Cox Communications.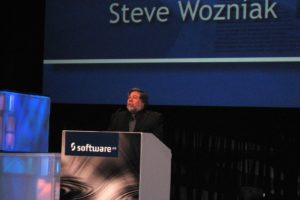 The real draw here at this morning's keynote, however, is Steve Wozniak, co-founder of Apple. He spoke about how he got started in technology and innovation, from high school days where he designed his first minicomputers on paper but couldn't afford the parts, to college where he had his first opportunity for some serious computing power.
He described meeting Steve Jobs and how they became best friends with a common love of new technology, and some of the differences between the two: Wozniak was a grounded, practical engineer working at HP, and Jobs was skipping class at college and dreaming new ideas. While Jobs was up in Oregon at college, Wozniak saw a Pong game for the first time, then built his own version using his TV at home; Jobs saw that and took a job at Atari, then pulled Wozniak on a crazy project to build the Breakout game in 4 days with 45 chips.
Wozniak wanted to be an engineer for life and build stuff; his ideas came from exposure to a crazy mix of new technologies, like the Pong game and ARPAnet. Jobs was the corporate builder, recognizing the monetary value and finding market for what Wozniak was building. As Wozniak kept building and eventually created a keyboard-driven microcomputer, he started to see the impact that programmers would have, and the two of them came to the idea of a pre-made home computer that used a keyboard instead of switches, and hooked up to a TV as a monitor, allowing hobby developers to get started: the Apple I. Wozniak designed the Apple II shortly after that, then made the leap and quit his job at HP to create Apple with Jobs. No surprise, Wozniak did the engineering, making the products work well, and Jobs did the design, making the products look good. They went off to their first Computer Electronics Show in Vegas, where they met the connections that led them to Xerox PARC where they saw a graphical user interface for the first time: although a lot of great engineering was already in the Apple products, this was the thing that set them apart in the long run. Now, Apple is known for two things — the beauty of the user interface, and the beauty of the product design — while all the great engineering is the silent partner that drives it all.
We all know a lot of this story, but it's completely inspiring to hear it from Wozniak directly: the things that he observed around him that sparked ideas, and his drive to make these ideas into reality. Completely inspiring.