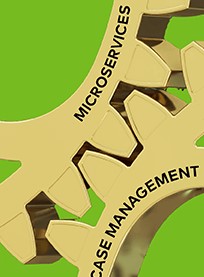 I wrote a post on a microservices approach to intelligent case management applications for Alfresco, which they've published on their blog. It covers the convergence of three key factors: the business requirement to support case management paradigms for knowledge work; the operational drive to increase automation and ensure compliance; and the technology platform trend to adopt microservices.
It's a pretty long read, I originally wrote it as a 3-4 page paper to cover the scope of the issues and cover case management examples in insurance claims, citizen services, and customer onboarding. My conclusion:
Moving from a monolithic application to microservices architecture makes good sense for many business systems today; for intelligent case management, where no one supplier can provide a good solution for all of the required capabilities, it's essential.
Before you ask:
Yes, I was paid for it, which is why it's there and not here.
No, it's not about Alfresco products, it's technology/business analysis.