The second session at today's Technicity conference highlighted some of the technology innovation going on at the city, with a panel featuring Grant Coffey, director of strategy and program management at the City of Toronto; Tina Scott, Blockchain proof of concept lead for the city; and Gabe Sawhney, executive director of Code for Canada and a representative for Civic Hall Toronto. Jim Love, CIO of IT World Canada, moderated.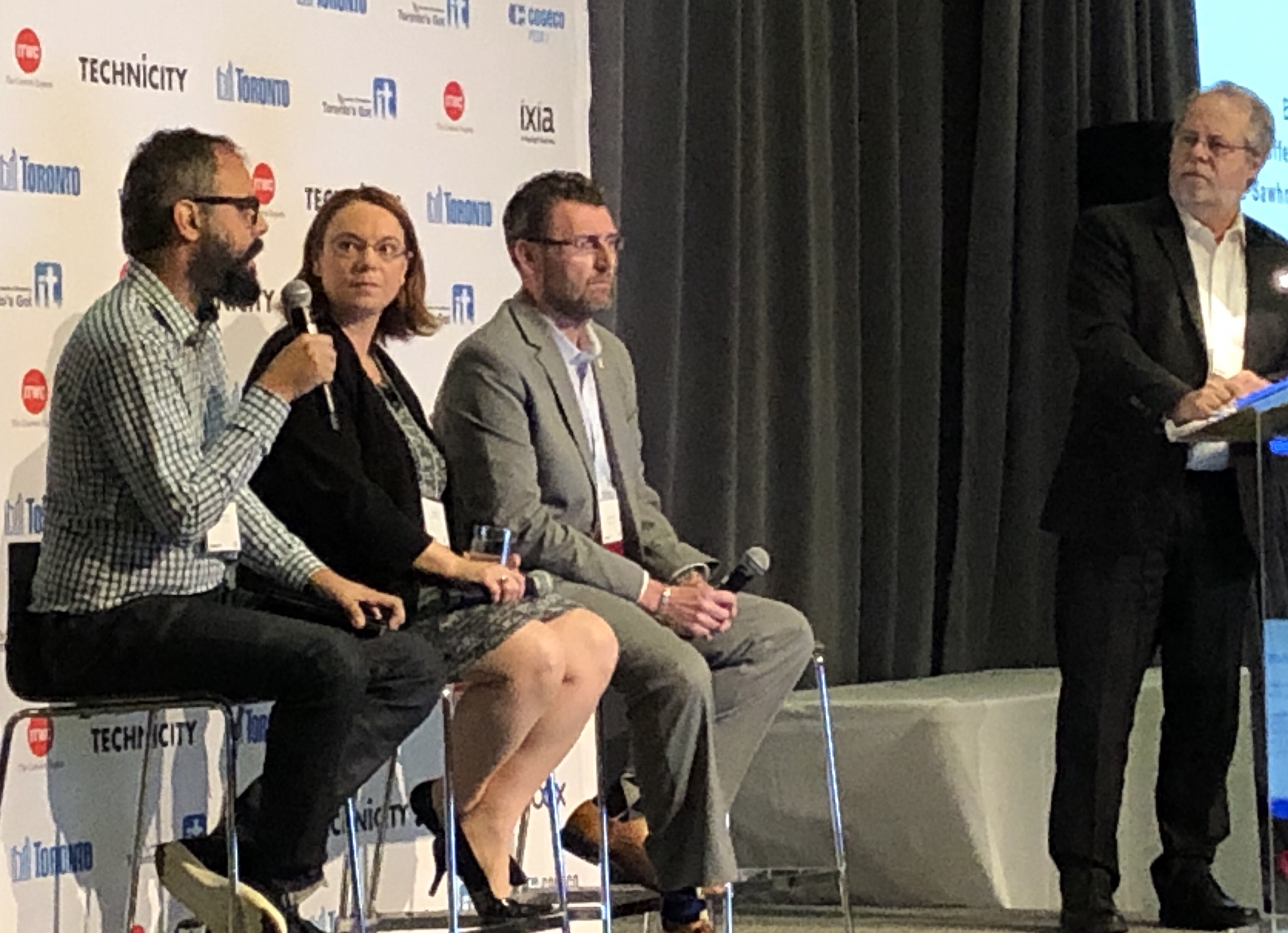 There are a number of different technology innovations underway at the city: some of them are public services, such as public WiFi and the offerings of Code for Canada and Civic Hall, while others are about how the city does business internally and with its commercial partners, such as blockchain in procurement processes.
Civic Hall has some interesting programs for connecting city government with other organizations for the purpose of building solutions together — I've been aware of and involved in things like this over several years, and they can yield great results in conjunction with the open data initiative at the city. Toronto also has a Civic Innovation Office as an in-house accelerator to help come up with innovative solutions to tough problems. These private and public programs aren't in competition: they both foster innovation, and support different constituents in different ways.
Blockchain is starting to gain a foothold in the city through some training and an internal hackathon earlier this year to develop proofs of concept; this provided exposure to both business and technology areas about the potential for blockchain applications. Now, they are trading ideas with some of the other levels of government, such at provincial ministries, about using blockchain, and developing use cases for initial applications. They're still just coming out of the experimental stage, and are looking at uses such as cross-jurisdictional/cross-organizational information sharing as near-term targets.
It's not all positive, of course: challenges exist in evolving the city employee culture to take advantage of innovation and do things differently (which is pretty much the same as in private industry), as well as changing policies and governance best practices to be ready for innovation rather than playing catch-up. Sharing success stories is one of the best ways to help promote those changes.