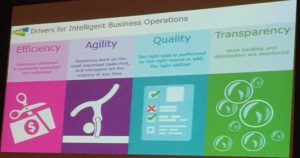 Nicolas Marzin of TIBCO gave a breakout session on making business operations intelligent, starting with the drivers of efficiency, agility, quality and transparency. There are a number of challenges to achieving this in terms of work management: workers may have too many queues to monitor and not know which is most important, or people may be having work assigned to them that they are either over- or under-qualified to complete. This can result in missed SLAs and unhappy customers, lower efficiency, and lack of agility since business priorities aren't enforced.
Looking at a day in the life of an operational business user, they need to know their own and their team's performance goals, and what work that they should be completing that day in order to achieve those goals. Managers are concerned about their team as a whole, including whether they are meeting goals and SLAs, whether they have sufficient resources, and how to prioritize work. Managers need tools for real-time metrics, workforce administration, workload balancing, and changing priorities on the fly. ActiveMatrix BPM provides the ability to model your workforce in terms of roles, groups, privileges, relationships and capabilities; rules are applied to create a distribution strategy that determines what work is assigned to what resource at any point in a business process. Typically, work is assigned to a subset of the workforce whose skills match the requirement, since allocating work to an individual creates an operational risk if that person is absent or overloaded with work. AMX BPM includes process patterns for resource management: separation of duties, retain familiar, chaining and piling.
Analytics comes into play in the management dashboard, where Spotfire is used to monitor operational performance and trigger actions directly from the dashboard. Typical visualization include work backlog and SLAs, resources pool workload and capacity, process and case performance, and business data in context. Marzin showed examples of dashboards for real-time tracking of work backlog and staffing, plus as-is forecasting that identifies bottlenecks. The charts show the factors that are most important for a manager to make resource allocation decisions, understand staffing needs based on combinations of skills, and reprioritize specific work types, which can then be pushed back to AMX BPM.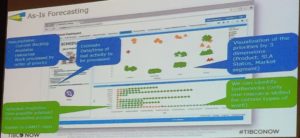 This is fairly traditional BPM and case management, with rule-based workforce management, but that's a huge part of where AMX BPM is being used in practice. However, their workforce management is fairly advanced compared to many competitive solutions, and using Spotfire for operational analytics raises the bar in active manager dashboards while allowing for what-if prediction and simulation on the fly. This ties in to the "closing the loop" theme of the day, where manager dashboard actions feed directly back to adjust the workforce management rules. This level of integrated visual analytics for AMX BPM is long overdue, but it looks like they've turned the previous demo-ware into something much more robust and generally applicable.
As an aside, I've done some presentations recently about the need to align incentives with corporate goals; although individual performance statistics are important, it's key to ensure that they match up with overall goals, and include measurements of collaboration and teamwork too. Metrics for collaboration are just starting to emerge, and are not included in most BPM or other work management platforms.