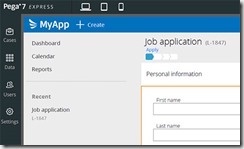 Adam Kenney and Dennis Grady of Pega gave us the first look at Pega 7 Express: a new tool for building apps on top of the Pega infrastructure to allow Pega to push into the low-code end of the BPM/ACM market. In part, this is likely driven by the somewhat high degree of technical skill that has traditionally been required to create applications using Pega, but also by the fact that customer experience is becoming a key differentiator, creating the need to create good customer-facing applications faster. Customer experience, of course, is much more than just the type of apps that you're going to create using Pega 7 Express: it's new devices and methods of interaction, but all of these are setting the bar high and changing customer expectations for how they should be able to deal with vendors of goods and services. Pega 7 Express is part of the Pega 7 platform, using the same underlying infrastructure: it's (just) a simpler authoring experience that requires little or no advance training.
We saw an introductory video, then a live demo. It includes graphical data modeling, form building and case configuration, all with multi-device support.
Call it end-user computer (EUC), citizen computing or low-code model-driven development, Express is addressing the problem area of applications that were traditionally built using email, spreadsheets and local desktop databases (I'm looking at you, Excel and Access). I'm not going to enumerate the problems with building apps like these; suffice it to say that Express allows you to leverage your existing Pega infrastructure while allowing non-Java developers to build applications. They even include some badges for gamifying achievements – when you build your first app, or personalize your dashboard. Just-in-time learning is integrated so that you can see an instructional video or read the help as you need it, plus in-context guidance while you're working.
In the demo, we created a new case-based app by specifying the following:
Application name, description and logo
Case type
Major phases (a straight-through process view)
Steps in each phase
Form design for specific steps – the data model is created behind the scenes from the form fields
Routing/assignment to reviewers and approvers
Milestones and deadlines
Device support
In part, this looks a lot like their Directly Capturing Objectives tools, but with more tools to create an actual executable app rather than just as input to the more technical Designer Studio development environment. We also saw customizing the dashboard, which was a pretty standard portal configuration.
As with any good Pega demo, however, Kenney went off-screen to "create a little data table" while Grady showed us the graphical form/case builder; they are definitely the masters of "pay no attention to the man behind the curtain" during demos, where one person does the user-friendly stuff on-screen, while a couple of others do a bit of heavy lifting in the background. Lucky for us (unlikely for Kenney), he couldn't connect to the wifi so we did get to see the data table definition, which was straightforward.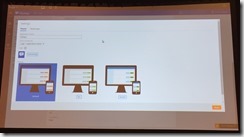 This does look like a pretty usable low-code application development environment. Like any other low-code model driven development, however, it's not really for complete non-techies: you need to understand data types, how to design a form, the concept of linking case types and separately-defined data types, and how to decompose a case into phases and steps. It wasn't clear from the brief demo how this would interact with any sort of expected case automation or other parts of the underlying Pega infrastructure: predictions, automated steps/service calls, more complex process flow or temporal dependencies, access control, etc. It's also unclear any sort of migration path from Express to the full Designer Studio, so that this could be used as an operational prototyping tool for more complex development. They did respond to a question about reporting; there is some out of the box, and they will be adding more as well as adding ad hoc
Pega 7 Express was announced today, with the cloud version available starting today, with a 30-day free trial followed by subscription pricing; when Pega 7.19 rolls out to on-premise installations, it will also offer Express. They're not really pushing it yet, but will start to roll out the marketing around it in Q3.