In a breakout session at Kofax Transform, Dermot McCauley gave us an update on the TotalAgility product vision and strategy. He described five vital communities impacted by their product innovation: information all-stars who ensure that the right information is seen by the right people at the right time, performance improvers focused on operational excellence, customer obsessives who focus on customer satisfaction, visionary leaders who challenge the status quo, and change agents using technology thought-leadership to drive business value. I think that this a great way to think about product vision, and Dermot stated that he spends his time thinking about how to serve these five communities and help them to achieve their goals.
TotalAgility is positioned to be the link between systems of engagement and systems of record, making that first mile of customer engagement faster, simpler, more efficient, and customer-friendly. It includes four key components: multichannel capture and output, adaptive process management, embedded actionable analytics, and collaboration. Note that some of this represents product vision rather than released product, but this gives you an idea of where they are and what they're planning.
Multichannel capture and output includes scanning in all forms, plus capture from electronic formats including documents, forms and even social media, with a goal to be able to ingest information in any type and any format. On the processing and output side, their recent acquisitions fill in the gaps with e-signature and signature verfication, and outbound correspondence management.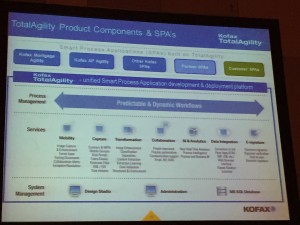 Adaptive process management includes pre-defined routine workflows and ad hoc collaboration, plus goal-based and analytics-driven adaptive processes. These can be automated intelligent processes, or richer context used when presenting tasks to a knowledge worker.
Embedded actionable analytics are focused on the process at hand, driving next-best-action decisions or recommendations, and detecting and predicting patterns within processes.
Collaboration includes identifying suitable and available collaborators, and supporting unanticipated participants.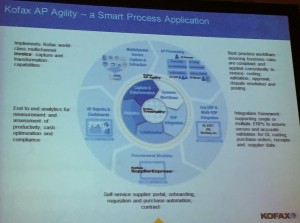 The goal is to provide a platform for building smart process applications (SPAs), both for Kofax with their Mortgage Agility and other SPAs, and for partners to create their own vertical solutions. McCauley walked through how Kofax AP Agility uses the TotalAgility platform for AP processing with ERP integration, procurement, invoice capture and actionable analytics; then Mortgage Agility that brings in newer capabilities of the platform such as e-signature and customer correspondence management with a focus on customer engagement as well as internal efficiencies.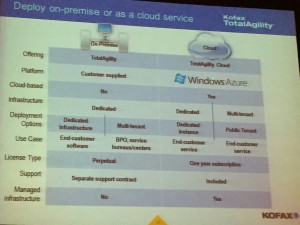 He walked through deployment options of on-premise (including multi-tenancy on-premise for a BPO or shared service center) and Microsoft Azure public cloud (multi-tenant or own instance), and touched on the integration into and usage of Kapow and e-signatures in the TotalAgility platform. They're also working on bringing more of the analytics into TotalAgility to allow for predictions, pattern detection, recommendations and other analytics-based processing.
Going forward, they have four main innovation themes:
Platform optimization for better performance
Portfolio product integrations for a harmonized design time and runtime
Pervasive mobility
Context-aware analytics
He showed some specific examples that could be developed in the future as part of the core platform, including real-time information extraction during document capture on a mobile device, and process improvement analytics for lightweight process mining; the audience favorite (from a show of hands) was the real-time extraction during mobile capture.