Two worthwhile SOA webinars from ebizQ in the past two days. Yesterday, it was Developing an SOA Ecosystem with Steve Craggs from the Integration Consortium. Craggs, who also runs a U.K.-based consulting company, Saint Consulting, spoke for a solid 40 minutes, starting with a quick but thorough definition of SOA, moving on to the concept and components of an SOA ecosystem as it should exist in your organization, and finishing up with some tips for success for building an ecosystem that can support 100's of services. And, I loved two of his quotes near the end: "SOA is not just about technology — it's a transformation of the business" and "SOA ecosystems ensure sustainable advantage", very business-oriented views of SOA benefits that are often lost in the more-frequent technical discussions about SOA.
He talked about how SOA has changed from a focus purely on web services (the little blue bit in the diagram below) to a focus on all the other things that need to exist in order to make SOA successful:
My only argument with his taxonomy of the ecosystem is that he puts orchestration as part of the mediation services, and BPM floating somewhere out there as a consumer of the SOA ecosystem, almost as part of the application layer. However, I consider orchestration to be part of the larger definition of BPM, hence believe that BPM belongs as part of the SOA ecosystem itself and in fact includes most of the mediation services that he lists.
My favourite bit was where he referred to web services as "an answer looking for a problem", and went on to list why just using web services over HTTP is problematic in building an SOA, and why it led to the development of the SOA ecosystem concept. He also gave some compelling reasons why the "best of breed" approach is still the best route in assembling your SOA ecosystem today, and the value of an enterprise service bus and the service registry. None of this is rocket science — in fact, his bit on the importance of correct granularity for services is really just an SOA twist on the age-old programmers' dilemma of granularity — but it is a nicely packaged talk, delivered in a way that's understandable to an SOA newbie. Definitely worth a listen.
Today, Frank Kenney from Gartner gave a short but impassioned talk on Policy-Driven SOA, followed by a fairly informative session from Sean Fitts, chief architect at Amberpoint, the webinar sponsor.
Under the heading "SOA does not come for free", Kenney talked about everything that's required to get SOA in place: infrastructure, methodology, services creation, testing, etc., but states that it's worth the price — an argument that I seem to be making to customers over and over again.
He feels that you need to have a certain type of infrastructure that allows you to govern what's going on in SOA. It's a different view than Cragg's SOA ecosystem shown above — kind of a slice across the lower half of Cragg's diagram, or maybe a third dimension.
Kenney talks about services, processes and policies as assets that can be used for competitive differentiation, which really lines up with Cragg's statement about ensuring sustainable advantage. What they're both saying is that the old cowboy web services methods aren't enough any more: if you really expect to reap the potential benefits of SOA, you need to start putting some discipline in place.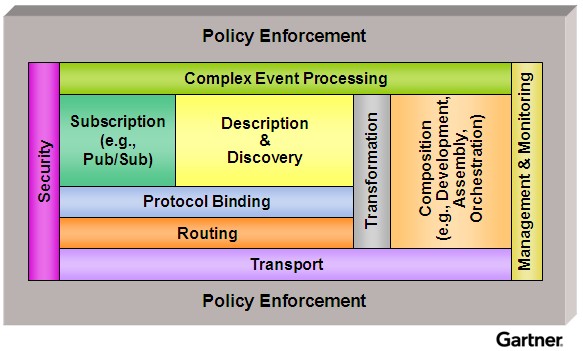 He finished up by stating that governance is a business issue, and that no one vendor can sell governance, but they can help you to achieve governance.
Replays are available at the links. I'd love to see these available as downloadable video for my iPod, by the way.