I always thought of J-Walk as a pretty geeky guy, until I saw his results on the Computer Geek test today, then took the test myself. My results: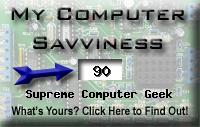 I blame my score on the fact that I do daily backup. Oh, yeah, there's the programming in multiple languages factor, too.
Updated to include the J-Walk link experiment.