I listened in today on the annual awards webinar for the Workflow Management Coalition's Business Transformation Awards. Nathaniel Palmer and Keith Swenson hosted the webinar, with assistance from Layna Fischer, and they announced that the WfMC is being disbanded: the original goals of the organization around process standards development have been achieved, and the standards are now being successfully managed by other standards bodies such as OMG.
I was a judge on some of the case management case studies for the awards, and it's always interesting to read about how BPM, case management and related technologies are used in different scenarios. The winners in these final awards for excellence in business awards were presented and discussed:
Banco Galicia, nominated by IBM India
Banmedica Chile, nominated by Pectra Technology
Becton Dickinson, nominated by Newgen Software
BeeHIVE, nominated by IBM Singapore (I'm very curious as whether this is related to their Beehive enterprise collaboration tool that I first saw in 2008)
City of Fort Worth, nominated by BP Logix (also recognized last year)
Immunization Information Systems Support Branch of the Centers for Disease Control (CDC), self-nominated
EsPozo Alimentacion, nominated by AuraPortal
ERSP, City of Buenos Aires, nominated by Pectra Technology
EVRAZ, nominated by BPM'online
Maury, Donnely and Parr, nominated by ProcessMaker
NEM Solutions, nominated by AuraPortal
Quote-to-Cash Operations, nominated by IBM Philippines
Remaza Group, nominated by Vianuvem
Sicoob Credicitrus, nominated by Lecom Tecnologia
Signature Care Management, self-nominated
They had a few other awards in addition to the case studies, focused on people involved in business transformation:
Michael Pang of Protiviti Greater China, awarded for BT CEO – Technology User
Jude Chagas Pereira of IYCON and Wizly, awarded for BT CEO – Technology Provider
Layna Fischer of Future Strategies and WfMC, awarded the Manheim Award for Significant Contributions in the Field of Workflow/BPM (yay Layna!)
Shaun Campbell of City of Fort Worth, awarded for Outstanding BT Team Leader
Me (!), awarded for Outstanding BT Consultant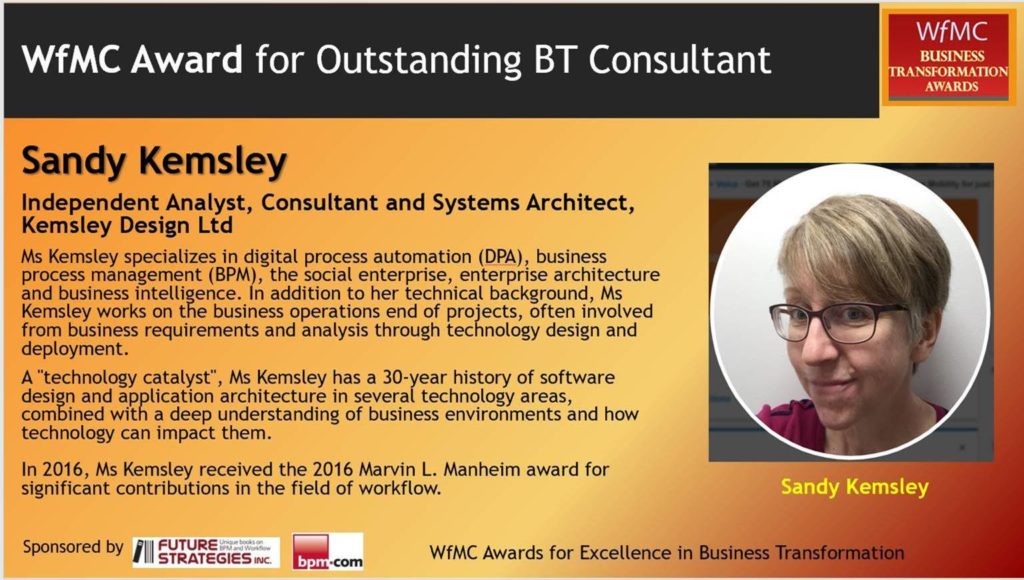 Congrats to all the winners, and a heartfelt thanks to Nathaniel, Keith and Layna for their amazing contributions to WfMC over the years.
The slides and recording of the awards webinar will be available at the Business Transformation Awards website, and watch for the new version of the Intelligent Automation book as well as previous books on this topic at Future Strategies' BPM Books site.