It's the first afternoon of breakout sessions at TIBCO NOW 2016, and Alex Kurm from Bank of Montreal is presenting how the bank has used Nimbus for process documentation, to serve the goals of regulatory compliance and process transformation. They are one of the largest Nimbus users, and Kurm leads a team of process experts deploying Nimbus across the enterprise as part of their in-house process excellence strategy.
He provided a good overview of regulatory and compliance requirements: to quote his slide, you need to have "evidence of robust, documented standard processes to ensure compliance to risk and regulatory requirements" as a minimum. Overlaid on that, there's an evolving set of consumer demands, moving from traditional in-person, telephone and ATM banking to web and mobile platforms. As a Canadian resident, I can attest that our banks haven't been as responsive as desired to customer needs in the past; their focus is on operational risk and security.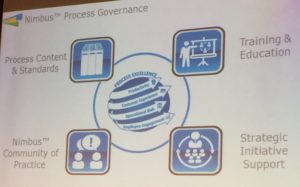 BMO's process centre of excellence maintains a knowledge hub of process best practices (including how to use Nimbus in their environment), leads and supports process-related projects, and heads up governance of all process efforts. They have about 16 people in the CoE, then process specialists out in business areas; they even have internalized the Nimbus training. Although there are a variety of tools being used for process models in the bank, they selected Nimbus because of its business-understandable notation, the ability to put all process content in one place, the built-in governance and control over the content (key for auditors to be able to review), and the direct link between process architecture and process maps.
They started on Nimbus 3 years ago with about 20 process authors working on a couple of opportunistic projects; this quickly ramped up to 300 authors by the next year, and they now have more than 500 authors (including business analysts and project managers as well as process specialists), although there are only about 160 active any given month since this work is often project-based. There are 1800 end users looking at Nimbus maps each month, with the largest number in capital markets, although the highest number of distinct initiatives is in the highly regulated area of capital markets. They organize their 20,000 Nimbus maps by core business capability, such as onboarding, then drill down into the business area; they're looking at ways of improving that to allow for finding content by any search path. They're also adding Spotfire to be able to interrogate the content to find non-compliant and high-risk maps for review by the CoE.
Their key use cases are:
Process documentation for use as a high-level procedural guide
A guide for compliance auditors to verify that specific checks and balances are being done
Requirements gathering prior to automation (they are also an ActiveMatrix BPM customer), and as ongoing documentation of the automated process
Nimbus is now a core part of their process transformation and risk mitigation strategies; interestingly, the only resistance came from other "process gurus" in the bank who had their own favorite modeling tools.
Good case study of the benefit of process documentation – even in the absence of process automation — in highly-regulated industries.