I can't believe it's already the third year of bpmNEXT, my favorite BPM conference, organized by Nathaniel Palmer and Bruce Silver. It's a place to meet up with other BPM industry experts and hear about some of the new things that are coming up in the industry: a meeting of peers, including CEOs and CTOs from smaller BPM companies, BPM architects and product management experts from larger vendors, industry analysts and more. The goal is a non-partisan friendly meeting of the minds rather than a competitive arena, and it's great to see a lot of familiar faces here, plus some new faces of people who I only know online or through phone calls.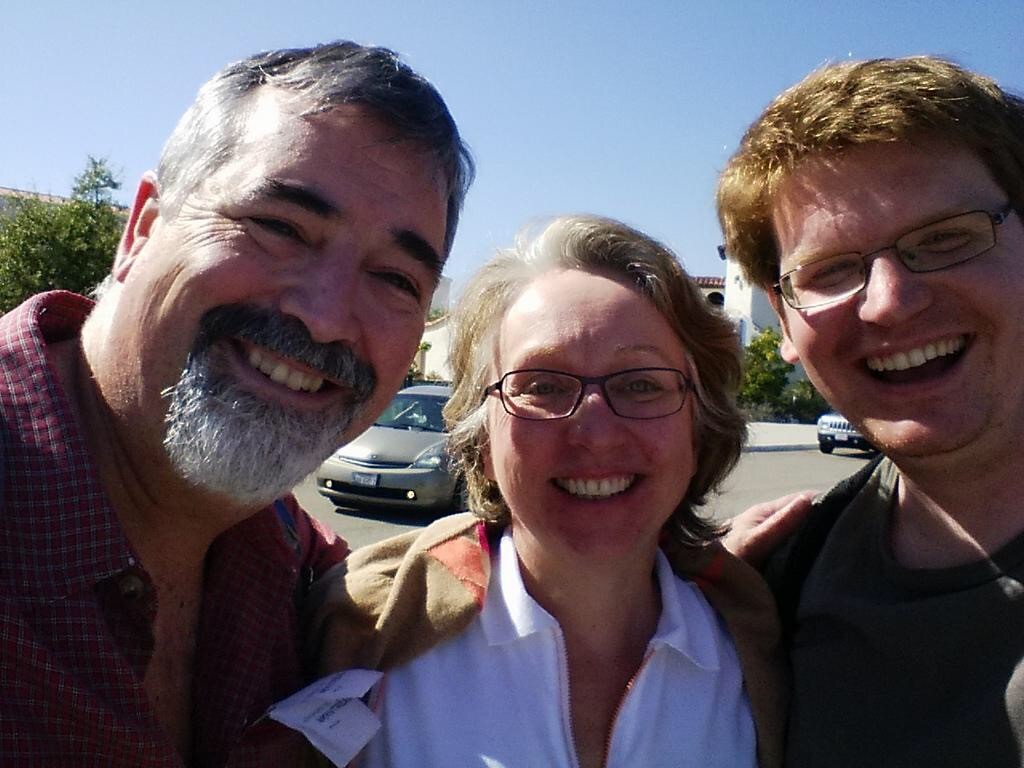 We're at the lovely Canary Hotel in Santa Barbara, and will have the chance for a wine tasting with some of the local wineries tonight: Slone Vineyards, Happy Canyon, Grassini, Au Bon Climat, and Margerum. But first, we have some work to do.
This year, we started with an optional half day program on the business of BPM, including keynotes and a panel, before kicking off the usual DEMO-style presentations. Because of the large volume of great content, I'll just publish summaries at the break points; all of the presentations will be available online after the conference (as they were in 2014 and 2013) if you want to learn more.
BPM 2020: Outlook for the Next Five Years
Bruce Silver kicked off the conference and summarized the themes and presenters here at bpmNEXT:
Breaking old barriers: between BPM and (business and enterprise) architecture, which will be covered in presentations by Comindware and Trisotech; between process modeling and decision modeling, with Sapiens and Signavio presentations; and between BPM and case management, with Camunda, Safira, Cryo, Kofax and IBM presentations.
Expanding BPM horizons: the internet of things, with presentations from SAP and W4; cognitive computing and expert systems, with BP3, Fujitsu, IBM and Living Systems; and resourcing optimization with process mining, from Process Analytica.
Reaffirming core values: business empowerment, covered by Omny.link and Oracle; and embracing continual change, with Bonitasoft.
Hearing Bruce talk about the future to BPM in the context of the presentations to be given here over the next couple of days makes you realize just how much thought goes into the bpmNEXT program, and selecting presenters that provide maximum value. If this fascinates you, you should consider being here next year, as an attendee or a presenter.
Nathaniel Palmer then gave us his view of what BPM will look like in five years: data-driven, goal-oriented, adaptive and with intelligent automation, so that processes understand, evolve and self-optimize to meet the work context and requirements. He sees the key challenges as the integration of rules, relationships and robots into processes and operations, including breaking down the artificial barrier that exists between the modeling and automation of rules and process. Today's consumers — and business people — are expecting to interact with services through their mobile devices, and are starting to include the quality of mobile services as a primary decision criteria. Although we are primarily doing that via our phones and tablets now, there are also devices such as Amazon Echo that are there to lower the threshold to interaction (and therefore to purchasing) by being a dedicated, voice-controlled gateway to Amazon; Jibo, a home-automation "robot" that aims to become a personal assistant for your home, interfacing with rather than automating tasks; and wearables that can notify and accept instructions.
Today, most BPM is deployed as a three-tier, MVC-type architecture that presents tasks via a worklist/inbox metaphor; Nathanial thinks that we need to re-envision this as a four-tier architecture: a client tier native to each platform, a delivery tier that optimizes delivery for the platform, an aggregation tier that integrates services and data, and a services tier that provides the services (which is, arguably, the same as the bottom two tiers of a standard three-tier architecture). Tasks are machine-discoverable for automated integration and actions, and designed by context rather than procedure. Key enablers for this in include standards such as BPAF, and techniques for automated analysis including process mining.
Reinventing BPM for the Age of the Customer
Clay Richardson of Forrester — marking what I think is the first participation by a large analyst firm at bpmNEXT — presented some of Forrester's research on how organizations are retooling for improving customer. Although still critical for automation and information management, BPM has evolved to support customer engagement, especially via mobile applications and innovation. 42% of their customers surveyed consider it either critical or high priority to reengineer business processes for mobile, meaning that this is no longer about just putting a mobile interface on an existing product, but reworking these processes to leverages things such as events generated by sensors and devices, providing a much richer informational context for processes. Digital transformation provides new opportunities for using BPM to drive rapid customer-centric innovation: digitizing the customer lifecycle and end-to-end experiences as well as quickly integrating services behind the scenes. Many companies now are using customer journey maps to connect the dots between process changes and customer experience, using design thinking paradigms.
We saw Forrester's BPM TechRadar — similar to Gartner's Hype Cycle — showing the key technologies related to BPM, and where they are on their maturity curves: BPM suites, business rules, process modeling and document capture are all at or past their peak, whereas predictive analytics, social collaboration, low-code platforms and dynamic case management are still climbing. They see BPM platforms as moving towards more customer-centricity, being used to create customer-facing applications in addition to automated integration and internal human-centric workflow. There's also an interesting focus on the low-code application development platform market, as some BPM vendors reposition their products as process-centric app dev — including both traditional technical developers and less technical citizen developers — rather than BPMS.
We're off on a break now, but will be back to finish the Business of BPM program with a panel and a keynote before we start on the demo program this afternoon.