Yesterday's keynote was less about TIBCO products and customers, and more about discussions with industry thought leaders about disruptive innovation. This morning's keynote continued that theme with a pre-recorded interview with Vivek Ranadive and Microsoft CEO Satya Nadella talking about cloud, mobile, big data and the transformational effects on individual and business productivity. Nadella took this as an opportunity to plug Microsoft products such as Office 365, Cortana and Azure; eventually he moved on to talk about the role of leadership in providing a meaningful environment for people to work and thrive. Through the use of Microsoft products, of course.
Thankfully, we then moved on to actual TIBCO products.
We had a live demo of TIBCO Engage, their real-time customer engagement marketing product, showing how a store can recognize a customer and create a context-sensitive offer that can be immediately consumed via their mobile app. From the marketer's side, they can define and monitor engagement flows — almost like mini-campaigns, such as social sharing in exchange for points, or enrolling in their VIP program — that are defined by their target, trigger and response. The target audience can be filtered by past interests or demographics; triggers can be a combination of geolocation (via their app), social media interactions, shopping cart contents and time of day; and responses may be an award such as loyalty points or a discount coupon, a message or both, with a follow link customized to the customer. A date range can then be set for each engagement flow, and set to be live/scheduled to start, or in a draft or review mode. Analytics are gathered as the flows execute, and the effectiveness can be measured in real time.
Matt Quinn, TIBCO's CTO, spoke about the challenges of fast data: volume, speed and complexity. We saw the three blocks of the TIBCO Fast Data platform — analytics, event processing, and integration — in a bit more detail, with him describing how these three layers work together. Their strategy for the past 12 months, and going forward, has three prongs: evolution of the Fast Data platform; improved ease of use; and delivery of the Fast Data platform including cloud and mobile support. The Fast Data platform appears to be a rebranding of their large portfolio of products as if it were a single integrated product; that's a bit of marketing-speak, although they do appear to be doing a better job of providing integrations and use cases of how the different products within the platform can be combined.
In the first part of the strategy, evolution of the platform (that is, product enhancements and new releases), they continue to make improvements to their messaging infrastructure. Fast, secure message transactions are where they started, and they continue to do this really well, in software and on their FTL appliances. Their ActiveSpaces in-memory data grid has improved monitoring and management, as well as multi-site replication, and is now more easily consumed via Node.js and other lighter-weight development protocols. BusinessWorks 6, their integration IDE, now provides more integrated development tooling with greatly improved user interfaces to more easily create and deploy integration applications. They've provided plug-ins for SaaS integrations such as Salesforce, and made it easier to create your own plug-ins for integration sources that they don't yet support directly. On the event processing side, they've brought together some related products to more easily combine stream processing, rules and live data marts for real-time aggregation and visualization. And to serve the internet of things (IoT), they are providing connectivity to devices and sensors.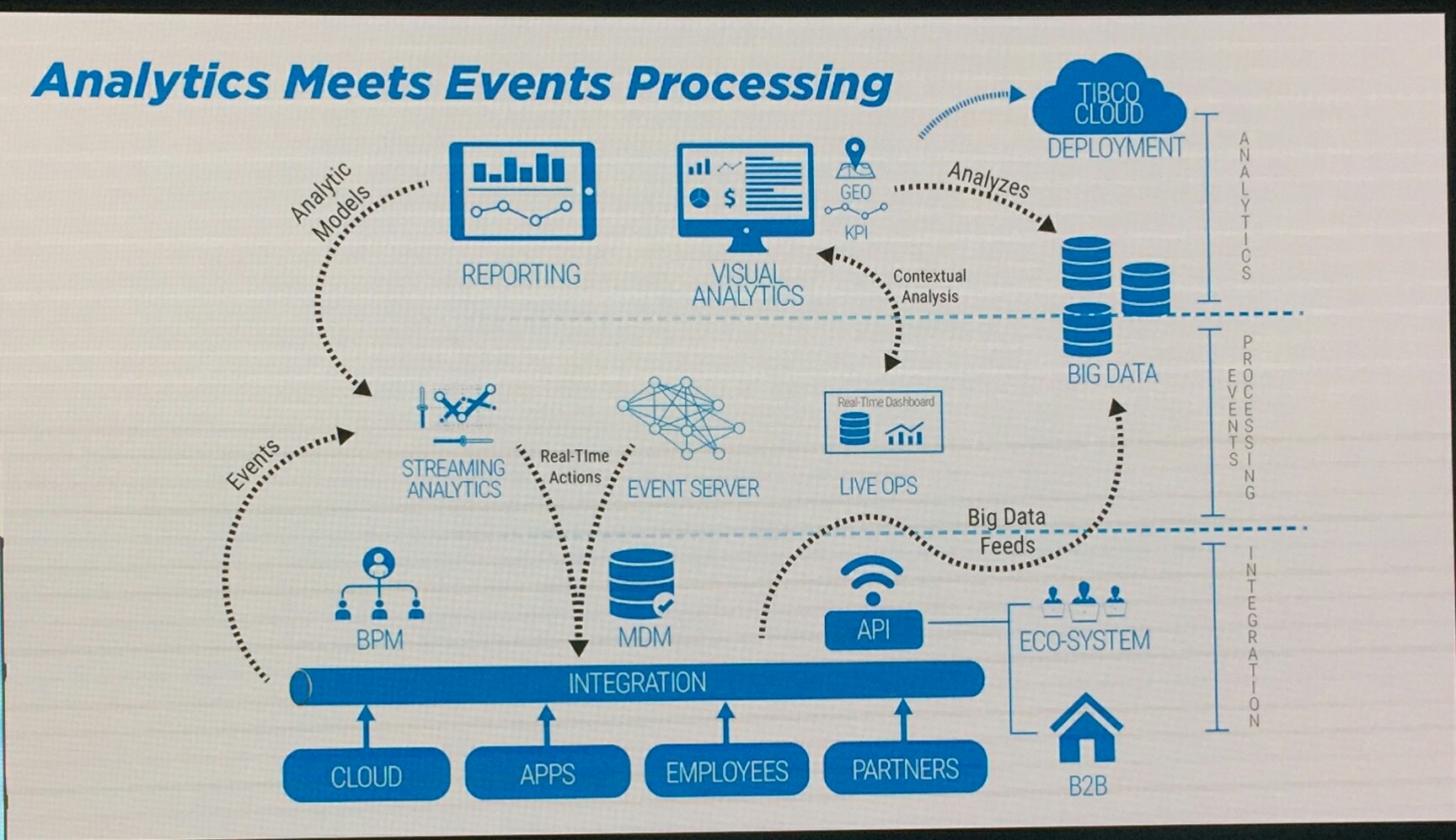 User experience is a big challenge with any enterprise software company, especially one that grows through acquisition: in general, user interfaces end up as a hodge-podge of inconsistent interfaces. TIBCO is certainly making some headway at refactoring these into a more consistent and easier to use suite of interfaces. They've improved the tooling in the BusinessWorks IDE, but also in the administration and management of integrations during development, deployment and runtime. They've provided a graphical UI designer for master data management (MDM). Presented as part of the ease of use initiative, he discussed the case management functions added to AMX BPM, including manual and automatic ad hoc tasks, case folder and documents with CMIS/ECMS access, and support for elastic organization structures (branch model). BPM reporting has also been improved through the integration of Jaspersoft (acquired by TIBCO earlier this year) with out of the box and customizable reports, and Jaspersoft also has been enhanced to more easily embed analytics in any application. They still need to do some work on interoperability between Jaspersoft and Spotfire: having two analytics platforms is not good for the customers who can't figure out when to use which, and how to move between them.
The third prong of the strategy, delivery of the platform, is being addressed by offering on-premise, cloud, Silver Fabric platform-as-a-service, TIBCO Cloud Bus for hybrid cloud/on premise configurations, consumable apps and more; it's not clear that you can get everything on every delivery platform, and I suspect that customers will have challenges here as TIBCO continues to build out their capabilities. In the near future, they will launch Simplr for non-technical integration (similar to IFTTT), and Expresso for consuming APIs. They are also releasing TIBCO Clarity for cleansing cloud data, providing cleaner input for these situational consumable apps. For TIBCO Engage, which we saw demonstrated earlier, they will be adding next best engagement optimization and support for third-party mobile wallets, which should improve the hit rate on their customer engagement flows.
He discussed some of the trends that they are seeing impacting business, and which they have on the drawing board for TIBCO products: socialization and gamification of everything; cloud requirements becoming hybrid to combine public cloud, private cloud and on premise; the rise of micro-services from a wide variety of sources that can be combined into apps; and HTML5/web-based developer tooling rather than the heavier Eclipse environments. They are working on Project Athena, a triplestore database that includes context to allow for faster decisioning; this will start to show up in some of the future product development.
Good review of the last year of product development and what to expect in the next year.
The keynote finished with Raj Verma, EVP of sales, presenting "trailblazer" awards to their customers that are using TIBCO technologies as part of their transformative innovation: Softrek for their ClearView CRM that embeds Jaspersoft; General Mills for their internal use of Spotfire for product and brand management; jetBlue for their use of TIBCO integration and eventing for operations and customer-facing services; and Three (UK telecom) for their use of TIBCO integration and eventing for customer engagement.
Thankfully shorter than yesterday's 3-hour marathon keynote, and lots of good product updates.