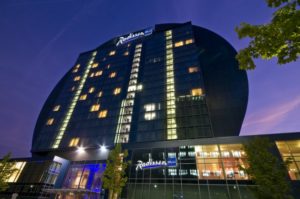 There's a great social media story as follow-up to my post on Saturday about getting stuck overnight in Frankfurt but getting great customer service from everyone involved.
First, I have to mention that as I left the Radisson Blu in Frankfurt, I complimented the three young staff members who were at the front desk on the great service that they had provided, telling them that I had blogged and tweeted about it, and they actually high-fived each other with huge smiles on their faces. These people aren't just providing service according to some playbook, they're going above and beyond wherever possible, and really enjoying it along the way. That speaks very highly about their management as well as the individuals. So I wasn't completely surprised to see a tweet this morning from Andreas Stöckli, the GM of the hotel, thanking me for my post and saying that they were putting it on their Facebook fan page. On their Facebook page, they not only linked to my post, they called out Nawid, who I had named in my post, for his "excellent Yes I Can Service", which means that they are actively rewarding people for providing outstanding service.
This is a really great way to use social media in a business: find mentions of your company on Twitter, blogs or Facebook, then promote those on the social media channels that you're using (Facebook and Twitter, in the case of the Radisson Blu). While you're at it, mention members of your own team who did a great job as part of that service interaction with the customer: this makes them feel great and builds morale on your team. Of course, not every online mention of your company will be good, and you need to respond appropriately regardless of the content, but when there's a good one, you want to make sure that it doesn't go unnoticed.
In my original post, I didn't mention how nice the rooms are, or the restaurant and other public spaces, but let me state now that they're great. The location is convenient to the airport and the city center (although requires a taxi ride to each). And, they have free wifi. I rarely travel to Frankfurt these days, but you can be sure that when I have the opportunity to do so again in the future, I'll be staying at the Radisson Blu, because Andreas and his team really rock.