Another webinar going on right now, Gartner BPM Roundtable: Business Process Management Trends and Forecasts, hosted by Global 360 and featuring Jim Sinur of Gartner (yes, this turned out to be "webinar day", I have a third one after this if I'm not burned out).
The usual webinar format is the "expert" talks to his slides for 30-40 minutes, then some marketing geek from the vendor talks about their product for 10 minutes. Not this one: it's a very dynamic conversation between Mr. Sinur and Michael Crosno, President of Global 360, and both of these guys are really smart about BPM. Yes, Mr. Crosno talks about Global 360 product features, but it's used as a springboard for Mr. Sinur to talk about the importance of specific functionality in the current and future BPM suites marketplace.
A few really great insights. The first one is was that legacy BPM deployments are more likely to have been for the purpose of reducing paper, whereas the new deployments are all about streamlining processes and improving productivity, with a new and increasingly important focus on extending the enterprise. Although this is something that we all know by gut feel, it's good to see some real numbers behind it: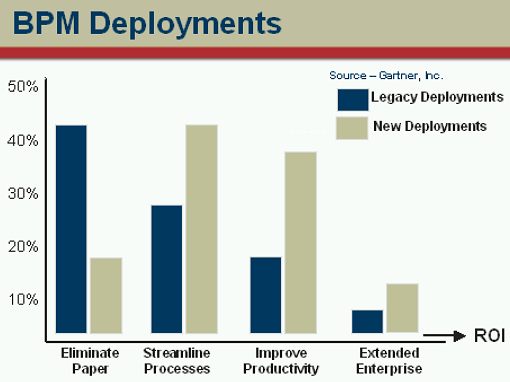 The second insight is that customer requirements are evolving from enterprise content management (ECM) to enterprise process management: a shift from information lifecycles to process lifecycles. As a "column 2" advocate, I'm really glad to see Gartner recognizing the shift in focus from content to process. Mr. Sinur showed a scale that started with image management and went all the way through to business optimization, with the crossover from ECM to EPM happening between portals and process execution. He puts "workflow" in the ECM space, that is, the subset of BPM that is used for content lifecycle management.
Another point was the trend for CRM vendors to integrate BPM with their products, usually by buying or OEM'ing in a third-party product, because they see it as an essential part of managing the customer relationship. I've been seeing this trend lately as well, such as with Onyx's acquisition of a BPM product and their current push to integrate it into their mainstream CRM product.
By far the best webinar that I've listened to in months. The slides and the audio playback will be available tomorrow on Global 360's site.