We've heard a few things already today on the value of centres of excellence (CoE): achieving the strategic scaled adoption of process orchestration maturity is going to require a CoE. André Wickenhöfer and Björn Brinkmann of Provinzial, a large Germany insurance company, were joined by Leon Strauch of Camunda to discuss CoE in general and how they are used at Provinzial.
CoEs can be centralized or more distributed — often they start out centralized but end up decentralized and federated within large organizations — but have some common activities and areas of expertise.
Provinzial started developing their CoE in conjunction with some successful implementation projects over the last 10 years; they spent quite a bit of time discussing the complexity of their projects, and how having some shared knowledge, methodologies and tools via their CoE has made it possible to do projects of this scope so successfully. The CoE supports the hyperautomation tech stack that is then used by the projects, allowing for common areas of discovery, design, automation and improvement. One of their primary conclusions was that this type of scaling is only possible through the use of a CoE and federated delivery teams.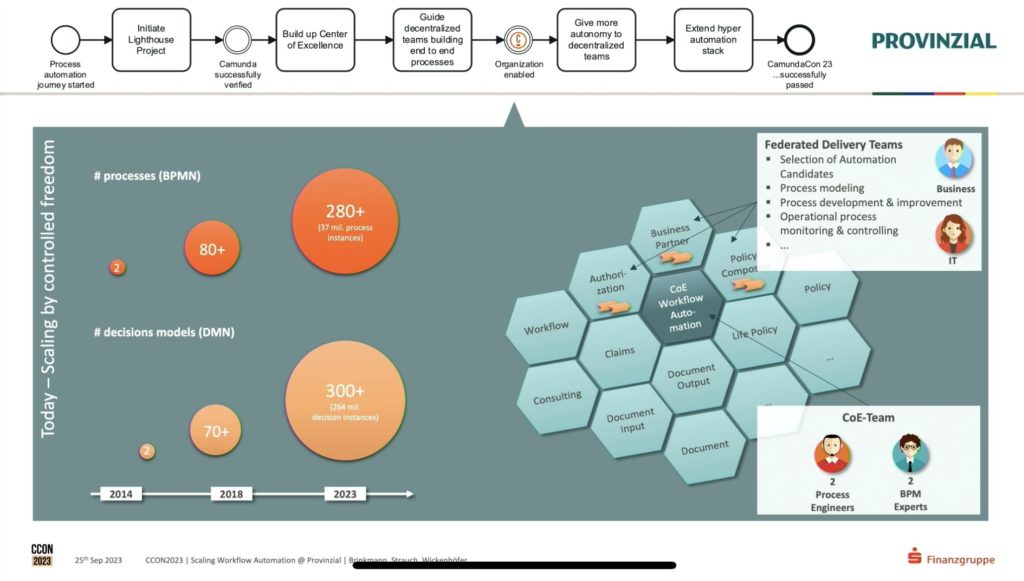 Although the presentation was supposed to be about their CoE, we heard a lot of great information on the automation projects that they've been developing, and how each project can push new tools and methods back to the CoE for more widespread acceptance — worth watching the replay when it's available to better understand what they learned along this journey.