Today, I attended (and spoke at) ProcessMaker's first user conference, ProcessCon 2021. This was virtual, of course, with some pre-recorded presentations and some — like mine — live. There was a reasonable amount of live Q&A, keeping things interesting.
We started with CEO Brian Reale's opening keynote, then I was up with a presentation on Process Automation for Business Survival; you can see my slides below, and I'll add a link to the presentation replays when I get it.
I took a bit of a break, then tuned back to see Alan Bollinger, ProcessMaker's Director of Product & Engineering, talk about the next 12 months of their roadmap, with the upgrade of their ProcessMaker 4.0 to today's release of v4.1. This adds more than 35 enhancements to the previous version, and cleans up a lot of open issues. I'm not a ProcessMaker aficionado so not sure all of what's completely new versus enhancements, but there's some cool new stuff with BPMN signals that allow for choreographed (rather than orchestrated) processes, new things with data object handling, and some new conversational forms capabilities for driving a chatbot-style interface.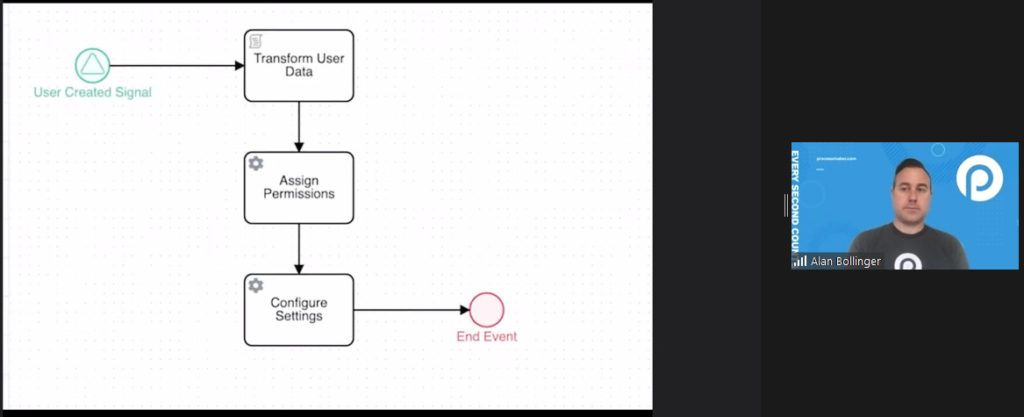 Beyond this newly-released version, they are adding user signals (BPMN signals that can be thrown with any changes to user profile data, e.g., to trigger a process when a new user is created), SCIM for cross-domain identity management, organization rules, parallel/serial multi-instance activities, and script APIs to allow direct REST access to any scripts without using BPMN.
There were some interesting customer case studies, and we finished the half-day conference with an open Q&A with a number of the speakers rejoining, including me. A lot of the questions were product-specific ones for Bollinger on the upcoming releases, but we had a good chat on the relative merits of choreography and orchestration, plus about conversational interfaces.