I wanted to catch an ActiveMatrix BPM customer breakout session here at TIBCONOW 2016, so sat in on Rahsan Kalci from ING Turkey talking about their transformation to a digital bank using BPM, co-presenting with a senior BPM architect from TIBCO, Raisa Mahomed. I've always thought of ING Bank as innovative, both through personal experience and from reading case studies about how they apply technology to business problems.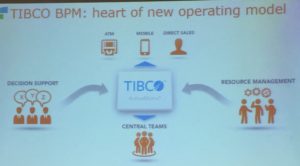 ING Turkey's business problem four years ago was that customer-facing processes were taking too long, were inefficient and inconsistent, and weren't fully documented so difficult for new users to learn. They decided to create a new operating model with AMX BPM at the core, supporting all of their business processes, and are in the midst of an operational transformation with 11 processes already implemented, and several others underway, ranging in complexity and customer engagement. They are building completely custom applications using the APIs rather than leveraging out of the box workspace tools, since they already had a robust user interface environment that they wanted to integrate with.
Throughput time on the now-standardized processes improved by 55%, providing greatly enhanced customer service that moved them from #6 to #3 in the market. From an operational cost point, transactions per employee increased by 38% allowing them to have a 36% reduction in operational staff (72 FTE). By using the workforce management capabilities in AMX BPM, they were able to determine parts of the process that could be near-shored (still in Turkey, but in less expensive locations than Istanbul), resulting in additional cost savings.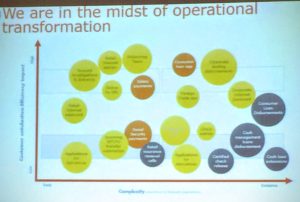 They have an overall strategy for what processes to implement in what order. They picked their initial processes as not customer facing, but still important for their operations, and able to be done manually as a fall-back position. This allowed them to learn the tool and establish best practices, then start to consider processes that directly impact the customer journeys. Although they started with a team made up of both ING and TIBCO people, they are now working completely on their own to build new processes and roll out new applications. Their ultimate goal is to roll out BPM to all core processes, enhance their digital business with support for mobile internal and external users, and use Spotfire analytics more broadly in the back office to improve operational decision-making.
They were an early AMX BPM customer, starting on version 1.0 and now on 3.1, with plans for 4.1 in the near future. Their first process application took them 2 years, but that was a much broader implementation effort that built tools and infrastructure used by all later applications. They've had about 20 people working full time on the BPM projects for the past four years, a significant investment on their part but one that is obviously paying off for them.