Raisa Mahomed of TIBCO presented a breakout session on best practices for building a BPM center of excellence. She started with a description of different types of COEs based on Forrester's divisions (I'm too lazy to hack the HTML to add a table in WordPress for Android, so imagine a 2×2 quadrant with one axis being centralized versus decentralized, the other tactical, i.e., focused on cost and efficiency, versus strategic, i.e., focused on revenue and growth):
Center of Expertise (decentralized, strategic) – empowers business stakeholders with expert assistance, provides best practice, governance, technology that is configurable and consumable by business
Center of Excellence (centralized, strategic) – governs all processes in organization, enforces strict guidelines and process methodology governance, owns the BPMS, engagement models foster trust and collaboration including internal evangelists
Community of Practice (decentralized, tactical) – small teams, departmental priorities and scope, basic workflow capabilities, little or no governance
Process Factory (centralized, tactical) – optimized for process automation projects, processes as application development, frameworks
Center of Expertise and Process Factory work well together and are often seen in combination.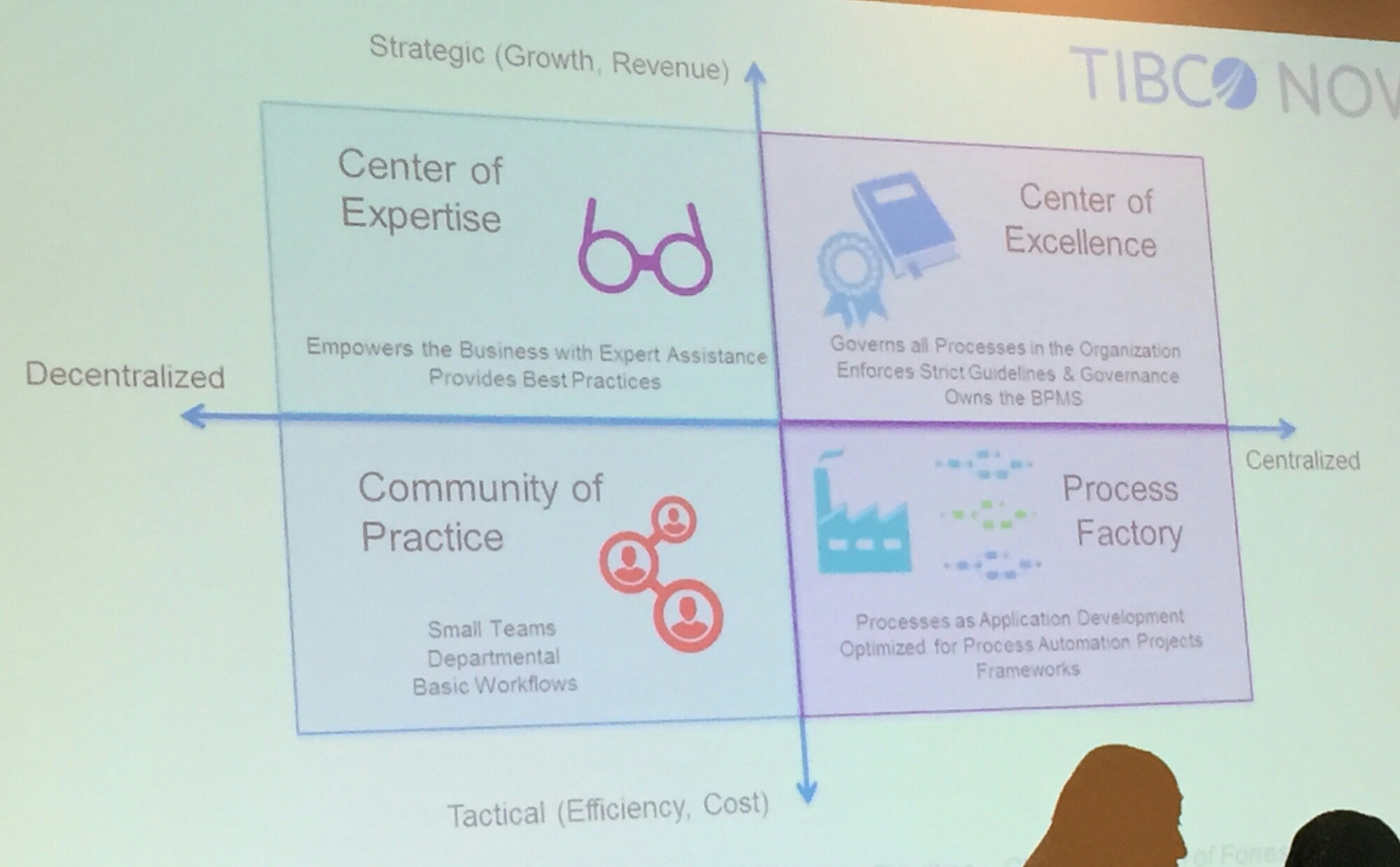 Best practices (these went by pretty quickly with a lot of detail on the slides, so I've just tried to capture some of the high points):
Find executive sponsorship for the COE: they must be influential across the organization, and be in the right place for the COE within your organization (e.g., COO, CIO, separate architecture group)
Create a governance framework – style will be based on the type(s) of COEs in use
Establish a methodology, which may have to accommodate different levels of BPM maturity within organization; be sure to address reusability and common components
Start with a core process, but relatively low complexity – this is exactly what I recommend, and I'm always frustrated by the "experts" that recommend starting with a non-core process even if the core processes are the target for implementation.
Encourage innovation and introduce disruptive technology.
Collaboration is key, via co-location and online collaboration spaces.
Don't skip the metrics: remember that measuring project success is essential for future funding, as well as day-to-day operations and feeding the continuous improvement cycle.
Don't let the program go stale, or become an ivory tower; rotate SMEs from the COE back into the business.
There's not a single BPM skillset: you need a variety of skills spread across multiple people and roles.
Make a business case to provide justification for BPM projects.
Empower and educate through training and change management.
Avoid the "build it and they will come" mentality: just because you create some cool technology, that doesn't mean that business people will stop doing the things that they're doing to take it up.
Institute formal reviews of process models and solutions.
Nothing revolutionary here, but a good introduction and review of the best practices.