I've had two "inconsiderate customer" incidents this week; actually, both are customers who I've done quite a bit of work for in the past but have been inactive for some time.
With customer #1, I contracted in as their business and application architect for several months; even though they didn't really get what enterprise architecture is all about, I spent most of a year trying to do some internal education on the necessity for EA to help sort out the legacy linguine that was rampant in their organization, as well as the lack of business-IT alignment. A while after leaving, on April 29th 2005 to be exact, I dropped my key contact there an email about the (then) new report from BPTrends on EA tools, saying the following:
…there's a new report out from BPTrends on enterprise architecture that you can download for free. I gave it a quick review on my business blog, which includes a link to the report. Although the product information in the report is nothing that you can't get from the vendor's sites, the first 25 or so pages are a great overview of enterprise architecture, process modelling and simulation tools that provide good background material if you're ever promoting a related project. I did an earlier post on their report on BPM suites that you might also find interesting.
Usually this type of email at least gets a "thanks", or "hey, it's been a while, let's meet for coffee", but nothing came back from this. No big deal, customer #1 is a busy person. Then on Tuesday of this week, 340 days after my original email, it arrives: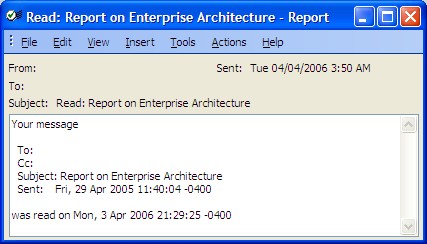 With customer #2, I did the architecture and design of their original BPM system, and they now need some analysis and design assistance to further increase efficiencies (which presumably would more than pay for my engagement there). Their internal IT architect contacted me in November 2005, we chatted on the phone and by email, then he connected me with the project manager. Long pauses in the conversation ensued, punctuated by several emails and voice mails from me to the PM. Responses took as long as six weeks, or never came at all. Finally, they made a request to have me fly to their site this coming week — the week leading up to Easter, with Friday a holiday here in Canada, and Saturday being when 13 members of my family will be descending on my home for Easter dinner. That, of course, is my problem, so I said yes. Turns out that no one had the funding approved, however, so I received an email two weeks ago saying that the trip was off. I immediately responded with some suggestions on how to restructure the project to reduce the funding issues while still providing value. Their response? Silence, so far.
The thing that frustrates me is that I'm not an unknown salesperson cold-calling these people, I'm a geeky engineer type who worked on site as part of the in-house team with both of these customers for several months and did significant amounts of work that were well-received. Are they just snowed under with the amount of email that they receive, and ignoring all of their business contacts equally, even if they were the one to initiate the conversation? Or, because I'm a contractor/consultant, don't they consider it worth their time to reply to my email (or even open it for almost a year)? At least I'm pretty sure that they're not reading this blog entry…